How to Find and Hire a Maid Service: Questions to Ask, Tips and More
Looking for a House Cleaner?
Keeping a home clean can be a never-ending chore that consumes much of our free time. If life seems to revolve around mopping, vacuuming, dusting and changing bed linens, hiring a professional housekeeping service in your area may be the solution
This guide covers everything to expect from a housekeeping or maid service including package options, what questions to ask and what they charge. This guide is for a service, not a live-in housekeeper who typically has more responsibilities such as laundry.
Professional Cleaner vs. Personal Organizer
Before you choose a housekeeper, ask yourself if you really need it. If what you're trying to avoid is a cluttered mess, you may want to opt for a personal organizer. They organize your space, design better storage solutions and help you get – and stay – clutter free
What Services Do Cleaning Companies Offer?
Maid service are varied and specialized. Most service companies start with a base package then move into specialized ongoing or one-time services for your specific needs. Special house cleaning services are often available for larger jobs such as garages, post-moving or post-construction.
Basic vs. Customized House Cleaning Services
House cleaning needs vary greatly based on your home size, location and what you really want and need. With most large companies, you can expect a basic package with optional services. Most plans start with a deep clean which covers the entire home. One-time visits tend to cost twice as much as a regularly scheduled recurring visit. But how much is your free time worth to you? The average American spends about 13 hours per week doing chores.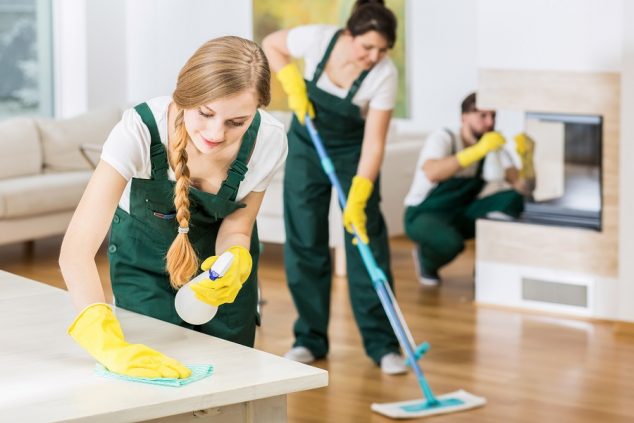 Tips for Hiring House Cleaning Services
Don't spend all your free time doing household chores. Follow these tips to ensure you hire high-quality cleaning services.
"Let's face it, few of us look forward to cleaning the house and some of us just downright hate it," says Angie Hicks, founder of Angie's List. "In an Angie's List poll, nearly 60 percent of respondents said their least favorite room to tackle is the bathroom — the most common complained about areas are toilets and cleaning soap scum."
Interview the housekeeping or maid service
It's important you interview not only a representative from a house cleaning service, but also the actual person who will be cleaning your home. You should be comfortable with them, especially if they'll be working while you're not at home. Ask if the same crew from the house cleaning company will be at your home each time.
Ask for a background check
House cleaners have access to your personal space, so you need assurance that the crew that comes into your home is trustworthy. Ask if the company does background checks on their employees and if the service maintains proper liability insurance.
Ask about rates
The cost for a professional cleaning service will depend on the services you request, the frequency of visits and the size of your home. Ask if they charge by the hour or by the project. Don't settle for an estimate over the phone — most house cleaning services offer free in-home estimates.
Here's How You Can Hire A Home Cleaning Service For The First Time
Hiring someone to clean your home is complicated. On one end of the spectrum lies a history of domestic work fraught with racism. On the other end rests the fear of being judged for having a sink full of dishes at the end of a particularly busy week.
But, like finding a cab (think: Uber), preparing dinner (we're looking at you, Plate Joy) and a slew of other formerly time consuming chores, the Internet has revolutionized the way we keep our spaces clean. Or, at the very least, it's taken the shame out of it, eliminating the need for personal referrals with its online booking system and extensive roster of cleaning pros.
"If you can find it in your budget, having a professional address your mess can be life-changing. And, it can free you up to be more functional at other things in your life," said HGTV's "House Counselor," Laurie March in an interview with HuffPost Home. As it turns out, affordability may be the real reason why this new generation of "maid" services have been gaining traction.
When someone sees a deal online for a 1 or 2-hour cleaning, what should they know up front?
"Generally, a one-bedroom, one-bath home takes 2.5 hours to clean," says Tye. "But there are times when even a small bathroom can take over an hour to clean, especially if it hasn't been cleaned in a while," she adds, noting her company's 2.5-hour minimum booking policy. March recommends choosing three things you want done really well and having your cleaning pro focus on those.
Is there any cleaning that needs to be done before the cleaning?
"The less of a total disaster they show up to, the more likely it is that they can do a serious, deep cleaning on the areas you really hate to do yourself," March says. "So consider picking up your socks and putting a few things in the right places so your pro can focus on that funk behind the toilet."
Tips on Finding the Best Maid Cleaning Service
Cleaning your house is a never-ending task, especially when you're juggling your professional and home life. So you've decided it's time to work around your busy schedule and find someone to make your house sparkle, and keep it that way. But you're not looking for just anyone. You want to hire the best maid cleaning service in town. However, a reliable company that teams up only with the best maids in the business is not so easy to find.
Check online reviews
The first step is to confirm the consistent quality of services the cleaning company provides. How? Perform a background check. Read online reviews and testimonials and get more sources on the past experiences from the company's clients.
Ask about maid screening
To make sure that you are opening the door to a trustworthy, dependable and honest professional, you should check the company's website or call them to find out how rigorously their maids are screened.
Ask about the equipment and cleaning supplies
Before you hire a cleaning service, see if they supply all the necessary cleaning supplies and equipment. Go for a maid service that will send a fully equipped team to your home. If you opt for products that are both environmentally friendly and effective in disinfecting, you can also inquire about the type of cleaning solvents cleaners use
Get price quotes
An easy, secure online booking and transparent pricing will save you the hassle and allow you to schedule your cleaning in just minutes. A company that is reliable and trustworthy will be fully bonded and insured and provide you with an estimate.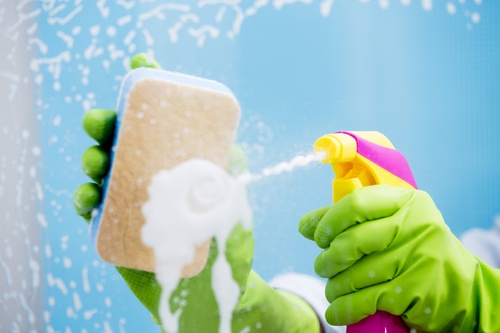 Tips for Finding the Right Professional Cleaning Services
Ensuring that your home is always clean is one of the ways of making it a conducive place to be. However, there are those instances when doing the cleaning task on your own becomes almost impossible because maybe you are too tired to complete the task. Or it could because you do not have the right equipment to do the task. If you are in the same situation, then hiring a professional cleaner is the best way out.
But what does it take to find good professional cleaning services? Well, with the so many cleaning companies, choosing the best one might be a bit tricky. This is why it is important that before you choose one, do your due diligence. This article provides you with important tips that will help you in finding the right cleaning services provider for you.
Research and References
Before choosing a cleaning company, it is important to make sure that you have the necessary information with you. This might include talking to people who might have hired the particular company that you intend to hire and get to know what they have in mind. You can also use the internet to collect all the necessary information. It is hard for you to make the wrong choice if you have the right information.
You also need to consider the reputation of the cleaning services. The reputation is mainly meant to give you a hint on the quality of services to expect if you hire the particular cleaning services that you have in mind. If for instance, the cleaning company that you are looking at has a good reputation, then it means that is known for offering quality services. Working with such a company guarantees you the assurance that you will get quality services.
Cleaning Experience
Cleaning services is a job that needs to be handled by professional people. People who understand what it takes to offer quality cleaning services. One of the qualities that a good cleaning company need to have is the experience