Tips for furniture upholstery cleaning
Upholstery can be cleaned at home or by a professional. Knowing the type of fabric and the proper cleaning methods before starting any cleaning process is a must. If your living room sofa, love seat or chair are looking scruffy or weary and buying a new furniture isn't in your consideration now, you can freshen it up by yourself with our at-home upholstery cleaning tips.
Always vacuum your furniture first
Make sure you use your vacuum upholstery attachments to carefully clean up movable pieces of dirt, dry soil, pet hair and other remains that will make it dirtier later on.
Identifying the stain type
Dirt, food, pee or poop (from pets or babies), wine spills, coffee, juice and other types of stains can be well cleaned with steam cleaning method. Tougher spots will be difficult to remove from the first time and may need more than one treatment. Oil-based or other hard to remove stains, chemical cleaners will be needed.
Read upholstered furniture tags
Check your furniture for fabric care tags or instructions, they usually tell you how the furniture must be cleaned. If you can't locate the tag check the furniture manufacturer's website. Perform a spot check with small, hidden section of the textile by cleaning it with cleaning product to check if any damage and color fastness will appear.
Here is a list of the most common upholstery tag labels and what exactly they mean.
W –  Means"water," the fabric can be cleaned with water-based cleaning solusion or product
S – Means  "solvent" and can only be cleaned with solvent or water-free product, dry cleaning products can be used. Using water based produce might damage the fibers, leave water stains and fade the color.
WS or SW This means that can be cleaned with both water based or dry cleaning products. However, there is still some risk of damaging the matirial. Have this professionally cleaned or very cearfully spot test the fabric before you start cleaning it
X – To clean fabric with that tag is a hard job even for the experts because water or standard dry cleaning solvents can not be used. .
Considering cleaning method
Once you have found out that your upholstered furniture are cleanable and your have determined the cleaning method now is time to get to the cleaning process. For regular dirt and soil you can use one of the upholstery cleaning spotters they sell in the stores. It's always better to use green or organic products if you have kids or pets in the house. After you got the right products the first step will be to spray the dirty areas of spots with it. Let 10-15 min working and meanwhile you can scrub that area with soft brush. Clean the treated area with white cloth and make sure you remove all of the chemicals you sprayed with.
Upholstery cleaning product price to consider
The cost of furniture cleaning products can really surprise you. Some of them might cost from $15 up to $20 per bottle, and if you are doing bigger jobs, you will probably need more than one. All of the products they sale in the stores are not professional grade but they might do the job for lightly soiled upholstery. If your sofa or loveseat are heavily soiled or haven't been professionally cleaned for years would be better not to even try to clean it on your own. Most likely you will not get a good result.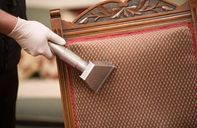 Guide for Upholstery Cleaning
Food and other spills can leave a permanent stain mark on your upholstery fabrics if immediate action is not taken. It is the professional upholstery cleaners who can make your furniture look much brighter and healthier. You can also use an essential guide or DIY tips for certain upholstery maintenance such as upholstery stain removal, dry cleaning or others.
DIY Upholstery Cleaning Solutions Make your own cleaning product. combine a cup of warm water with one cup of biodegradable soap. Apply the foam of the mixture to the upholstery until the dirt is removed
DIY Upholstery Cleaning Solutions Mix Soda and Hydrogen Peroxide you can make the use of a club of soda and hydrogen peroxide. Before using the homemade solutions, you should test a sample fabric first to see its effects
DIY Upholstery Cleaning Solutions Use of Shampoo or Whipped Detergent The other effective Local Upholstery Cleaning in Adelaide solution is the use of shampoo or whipped detergent to clean stains off. Always use cold water when you try to remove dirt or stains.
Effective Products That Can Be Used for Upholstery Cleaning Baby wipes are one of the excellent products that can be used to clean the upholstery every day. As these wipes are very mild and not too wet, it can effectively clean everything accumulated in your sofa or chair. Use Baby Wipes To Clean Upholstery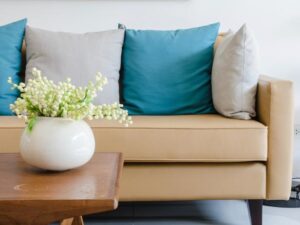 How to Clean a Couch
Whether you've just got crumbs, or the toughest of stains, these cleaning tips will have your sofa looking as good as new.
We all love being couch potatoes but it's no fun to lounge on a dirty sofa. Over time, crumbs, spilled soda, pet hair, dirt, and oil from your hands and feet build up on your couch and make it look dingy. No worries. Here's how to clean a couch so that it's ready for you to binge watch an entire season of your favorite TV show.
Vacuum. Use a hand vacuum or the brush attachment on your vacuum to clean debris and dirt from the sofa surface. Be sure to clean the crevices where pet hair, food crumbs, and dirt accumulate. If the cushions are not attached, remove them and vacuum both sides. If there's a lot of pet hair, use a lint roller to remove hair the vacuum can't get.
Clean the wood or metal areas. Wipe down the sofa feet and other non-fabric parts of the sofa with a solution of warm water and liquid dish soap.
Determine the type of fabric you're dealing with. Find the tag on the couch and read the instructions for how to clean upholstery. Here are the codes found on labels:
WS: Use a mild detergent with a steam vacuum or a dry-cleaning detergent
S: Use a dry cleaner detergent only.
X: Use a vacuum only. No water.
W: You can use water to clean it.
Remove stains. Knowing how to clean a couch means knowing how to remove stains. You can use a commercial cleaner or you can make your own cleaners from natural ingredients you have in the kitchen. Homemade cleaners are cheaper and kinder to the Earth. Here's how to clean a sofa, by fabric type:
For fabric upholstery, mix 1/4 cup vinegar, 3/4 warm water and 1 tablespoon for dish soap or Castile soap. Put in a spray bottle. Mist the soiled area. Scrub with a soft cloth until the stain lifts. Use a second cloth moistened with clean water to remove the soap. Dry with a towel.
For leather upholstery, mix 1/2 cup olive oil with 1/4 cup vinegar and put into a spray bottle. Spray the cleaner on the surface of the couch and buff with a soft cloth.
For synthetic upholstery, mix 1/2 cup of vinegar, 1 cup of warm water,and 1/2 tablespoon of liquid dish soap or castile soap in a spray bottle. Mist the soiled area and scrub with a soft cloth till the stain is gone.
Let the couch dry. Use a towel to soak up any excess water remaining on the sofa surface. Let the sofa air dry. If it's humid, you may want to set up a box fan pointed at the sofa for speed drying. Water can cause cushions and fabric to mildew.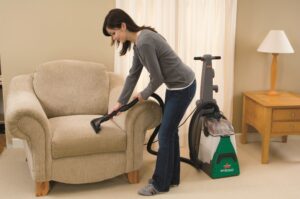 AN EASY GUIDE TO CLEANING THE COUCH AND UPHOLSTERED CHAIRS
Do you ever wonder how to clean your couch or chairs? They can both be kind of awkward and probably aren't a part of your regular cleaning routine. But no one wants to sit down and relax on a couch or chairs covered in stains
Before starting the sofa cleaning or chair cleaning, make sure to check the manufacturer's tag for specific cleaning instructions. On upholstery, you'll probably see a manufacturer's cleanability code tag. If the fabric is coded "WS" or "W", it's safe to clean. If your upholstery tag is coded "X" or "S", it is not safe to clean, due to the type of fabric on the couch or chair. Once you know that it's okay to be cleaned, test a small hidden area of your fabric couch or chair for colorfastness.
Now that you know your couch or chair can be cleaned, and that the upholstery color won't be affected, take off anything that can be removed from the sofa: throw blankets, pillows, toys and everything else. Most blankets can be washed in the washing machine, and in some cases, so can those pillowcases. But you'll want to double check the tags on those to make sure you're washing them correctly. If you don't see a tag, contact the manufacturer to make sure you wash them correctly.
Start by using your vacuum's attachments to clean hair and loose dirt from the surface. Now that the dry debris is removed, let's give your couch and chairs a good, deep clean. First, take a look at your couch and assess any glaring stains on the upholstery that need a little extra attention. Tackle those stains by pretreating them with one of our specially developed formulas
Use the pre-treat as a fabric sofa cleaner to loosen and remove tough stains and embedded dirt. Pet Stain Pretreat and Spot Cleaner has enzyme power that works on old pet stains or odd odors.  It permanently removes pet urine stains and odors on the fabric of your sofa and chairs
Sofa cleaning prices
It may be the centrepiece of your living room, but getting your sofa cleaned can often slip to the bottom of your priority list. Meanwhile, your sofa will pick up more dust, more stains and more loose change.
When you eventually do decide to get your couch cleaned, you will notice the immediate difference it can make in freshening up your lounge or living space. But what are the average sofa cleaning prices?
Whether you are moving out of rented accommodation, have special visitors coming to stay or simply want to bring your sofa back to life – professional help is usually the best and most reliable way to go. With this in mind, we have put together the following cost guide explaining the typical sofa cleaning service price.
How much does sofa cleaning cost?
The average cost of getting a sofa cleaned is $60 for a two-seater sofa. The overall price will differ based on a few factors. The number of items you need cleaned, the size of the items and the method of cleaning will be the primary aspects to consider. The table to the right shows the average sofa cleaning prices by item.
Types of upholstery cleaning
Depending on the condition of your sofa, a professional will use one of the following methods for couch cleaning:
Steam cleaning
Steam cleaning is a versatile way of lifting stains and rejuvenating well-used furniture back to its former glory. This method involves vacuuming and spraying professional furniture cleaning solution before applying high-temperature steam to loosen and dissolve dirt, brightening the fabric's colours.
Dry upholstery cleaning
Dry upholstery involves a pre-treatment stage where existing stains are treated with a cleaning solution. After the pre-treatment, an upholstery professional applies a dry solvent to the pre-treated areas, before using an automatic machine with rotating brushes to remove stain, dirt and debris.