These Are The Tips You Need If You Hate Wasps
Use Peppermint Oil
A 2013 study showed that peppermint essential oil had a repellent effect against yellow jackets and paper wasps.
You can take advantage of this effect by putting a few drops of peppermint oil on several cotton balls. Place the cotton balls around your patio, outdoor furniture, or wherever you spend time outside to keep wasps, hornets, and yellow jackets away.
Plant These Plants
There are certain plants that wasps don't like to hang around, so adding these plants to your yard can help keep wasps at bay. Consider planting the following wasp-deterring plants around your yard.
Avoid Floral Scents
Avoid wearing bold floral scents when you'll be spending time outside. This could include perfumes, body sprays, lotions, and other scented products. Floral scents can attract wasps, and no one wants to be a walking wasp magnet!
Make A Decoy Nest
Wasps are very territorial, so if they see a nest near your home, it may deter them from building a nest nearby. You can take advantage of their territorial nature by making a simple decoy wasp nest!
Move Hummingbird Feeders
Hummingbirds love hummingbird feeders, but wasps do too! If you have a hummingbird feeder in your backyard, you may want to move it to a secluded area or bring it inside when you or your guests will be spending time out there.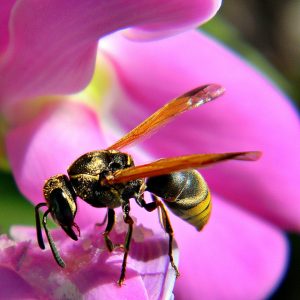 How to Find a Wasp's Nest and What to Do Next
How do you know what kind of nest it is?
There are several features that will enable you to differentiate between the nests of different wasp species:
-If the wasps appear to be coming from a hole in the ground, on a building or in a tree, they are most likely yellow jackets. A single yellow jacket nest can contain as many as two thousand insects.
The average hornet's nest will be round with a slightly pointed bottom, about the size of a football, and have fairly smooth "papery" walls with a single large opening.
A paper wasp's nest will have large, hexagonal open combs and a "stalk" from which it hangs. Many have described the appearance of the nest as an "umbrella" due to the distinctive shape. Paper wasps are sometimes referred to as umbrella wasps because of this.
-If the nest you're looking at is formed of yellow layers with tight hexagonal combs, and appears to be made from a waxy substance, you're most likely looking at a honey bee hive. These are rarely aggressive and are a protected species that is important for the environment.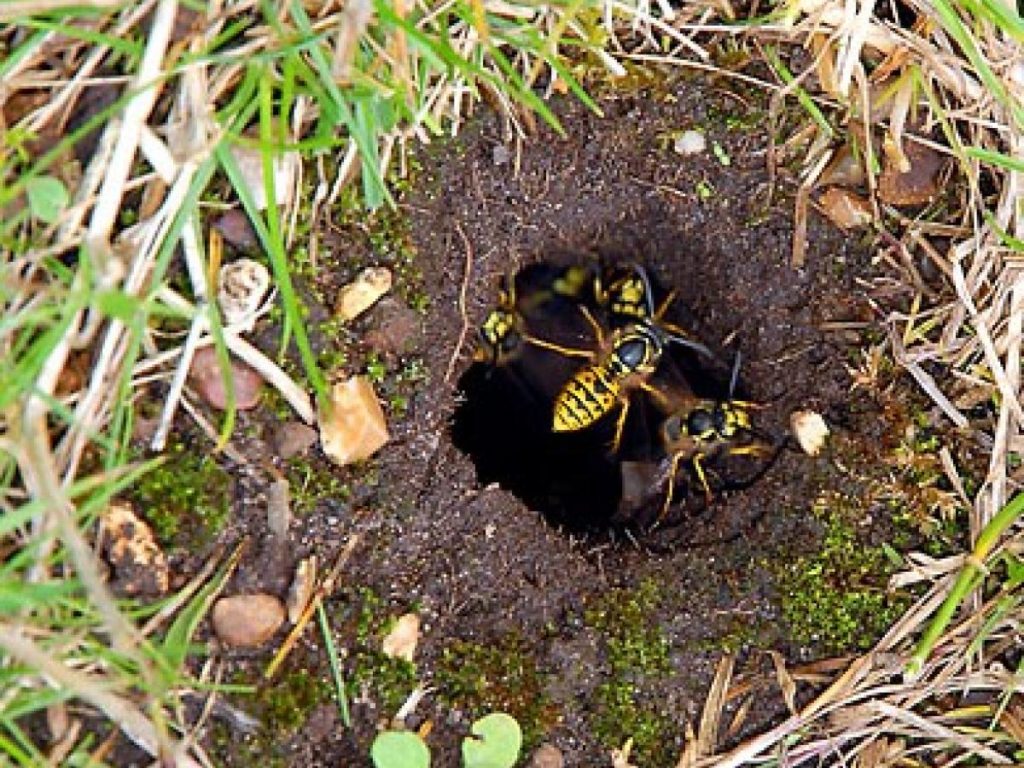 How to Find Wasp Nests
How to Destroy the Wasp Nest
Destroy – To destroy the wasp nests apply NO Wasps Eliminator to the entrance, particularly where the wasps land to walk into the nest entrance. The wasp picks the powder up on their feet and carry it into the nest.
Stay Safe – Although powder insecticides help keep wasps calm, for safety apply the powder late in the day when activity is low or has stopped.
Tip for Nests in Eaves – The new NO Wasps Eliminator adheres better to surfaces. However, although it puffs upwards well, it can still be difficult to get the powder to the nest entrance. A temporary ad hoc solution is to use the dip tube from a trigger sprayer e.g. NO Bugs Super 1L RTU or other trigger bottle typically found under a kitchen sink. Clean and dry it, and it will fit neatly into the aperture of the NO Wasps Eliminator puff bottle. Push the dip tube down to the level of the powder. The puffer will now puff the powder upwards easily and the nozzle can easily be inserted into the small holes and gaps that usually constitute the entrance to the nest.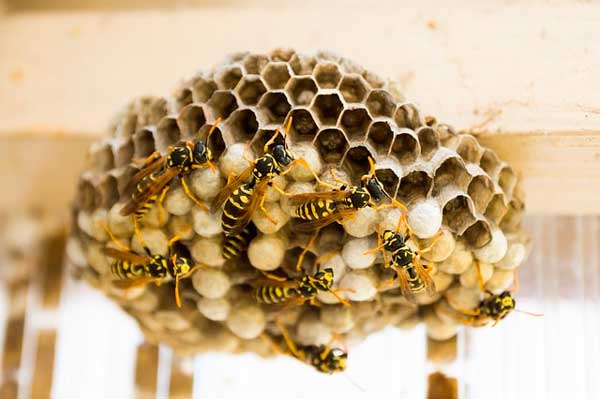 What's the best way to get wasps to go away?
Wasps are attracted to white, bright blue and yellow, but can't see red, so plan your wardrobe accordingly.
Their vision is also optimised to look for the sudden, sharp movements of insects, so wildly flailing as you try to swat a wasp will just make it more determined.
Killing a wasp also releases pheromones that will attract other wasps nearby. Instead, calmly trap the wasp under a glass, so it can't return to the nest and tell the others where to find your food.
A 2012 study tested the wasp-repelling properties of different essential oils and found that a mix of clove, geranium and lemongrass oil was the most effective, so try a dab behind each ear.
Getting Rid of Wasps and Hornets: 5 Crucial Facts You Should Know About Their Behavior and Life
Mind that the wasps can sting not only with the sting itself. These guys are so insolent and evil that they also use their mandibles, as well. They rip the victim's skin as they would with teeth, and it hurts very, very much.
Vivid, artificial, sweet smells and alcoholare to wasps like a red rag is to a bull. They feel these odors miles away and are eager to taste those who carry them. Fragrances and colognes especially excite the yellow jackets. The worker waspsare also attracted by puddled water – get rid of leakages in the backyard.
Wasps go nuts in summer. They reproduce actively and protect their offspring. The hot weather impacts them greatly and these insects sting anything that moves and – most importantly – smells nice.
It's best to fight the wasps and the hornets in spring or in autumn. In autumn, yellow jackets lose their enthusiasm and aggression, become drowsy, and slowly retire. It's extremely easy to access and destroy the hive at that time. By springtime, the queen will have spawned lots of defenders for herself and will be too busy building a nest. You'll suffer throughout the whole summer if you don't take your chance at that moment.
Most often the wasps settle in colonies. There could be thousands of these insects in the same nest. They all are subordinate to the queen, who is the head of the nest. The queen is the only member of the colony that survives the winter – that is proven by many scientists including Jeff Hahn, Laura Jesse and Patrick Liesch from the University of Minnesota. So killing all the workers, but leaving the queen alive means working in vain. Another disadvantage of such sociality is the ability of wasps and hornets to attack as a team. The smell of their congeners' venom excites them and makes them join the attack on the victim.