Things to Consider When Hiring a Painter
If you have owned a home for any length of time, you have probably need to hire a painter in the past.
If this is the first time getting you are house painted or your last experience with a painting contractors wasn't the best of experience, we will discuss 7 things you should consider prior to hiring a painter for your next project.
Here are the top things to consider when hiring a painter:
Check References and Past Work
One of the most important things to consider when hiring a painter is what other people are saying about what it is like to work with them. Online is a great place to start, but you should also call a few of their previous clients so you can see what it's like working the painting company. Also ask if the painter can provide examples of recent projects to decide if their style matches the look you are going for. Once you've found the right painting contractor, move on to the next step: reviewing the house painting contract details.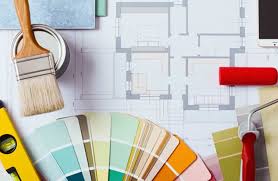 Does the Contractor Have Insurance?
It might feel a bit strange, but put those feelings aside and confirm that your contractor has insurance before doing business with them. Remember that the contractor is working at your house or property. While you may have insurance to cover accidents that happen on your property, it is the contractor's responsibility to have adequate insurance as well. Don't hire a contractor unless they have comprehensive business liability with a minimum of a million dollar limit. This protects your property from damage by the contractor. Likewise, check that your contractor is also carrying workmen's compensation to protect the workers while they're on your property. This protects you from having liability for any accidents. Don't rely on your homeowner's insurance. Ask for proof of both insurances before agreeing to hire the contractor.
Is the Contractor Properly Licensed?
Some licenses are for only residential or only commercial properties. Others are for small jobs, but not big. Make sure your contractor carries the proper licensing for your property and the scope of your job. You can search for this online, and while you're at it, check to see if the contractor has any unresolved complaints.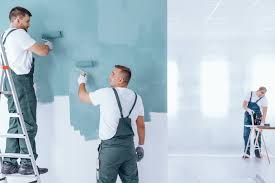 The Prep is Time Consuming
You may have considered how much time it would take you to paint your home, but have you taken into account all the work that must be done before you start the job? Professionals state that at least 30% of the total project time is dedicated to proper prep. Taking the time to do this step right will save you long term, from ensuring your exterior paint sticks to not having to deal with the messy clean up when it ends up where you don't want it.
Being Ready Can be Cost-Effective
tIf you are hiring a professional for your house painting, don't leave all of the prep work to them. Ensuring your home is ready to be painted can save your painter time and your money. If you have landscaping or hardscaping that is going to make it awkward to get to the house, clear it away. Ensure that the ground is clear for ladders and supplies, think at least 18 inches of space. Also, take this time to ensure that your gutters and downspouts are appropriately cleaned and attached.
Don't Be Scared to Negotiate
Sometimes you love the expensive painters work way more than his competitor who is cheaper. Do not be afraid to tell the painter that! He may price match, or at least work with you to ensure that you get a quality home improvement for a price that wont make you struggle to afford your improved home. This is best done when you have two or three bids done, so you know what is reasonable when asking for discounts. The worst he can say is no.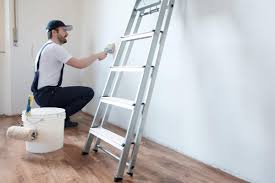 Did they provide a formal estimate?
When getting an estimate did they provide you with a written or typed formal proposal? Before signing onto any project, there should be a clear understanding with the contractor as to exactly what services they will be providing (including the specific areas of your home they will be working on, agreed upon products, specific repairs to be done, etc.) and exactly what you, the customer, will be expected to pay.
Does the painter use employees or subcontractors?
In general, it is best to find a company that uses their own employees – these are men and women on their payroll who the employer knows well, trusts, and who operate in line with the company's values.
Things Your House Painter Wishes You Knew
Take a deep breath. You have hired a professional house painter! Here are 13 things we want you to know and how you can help us do the best job possible.
House Painting Is Skilled Artwork
House painting is more than just brushing, rolling or spraying paint on a surface. Think of house painting as not just a skill, but also an art form practiced daily over years by your professional house painter. While this form of artistry will not turn your bathroom walls and ceilings into one of the world's premiere masterpieces, like the Sistine Chapel, it is important to understand your house painter is a skilled artist.
Find a Painter You Like
Always go out for multiple bids for your painting project, not only does this give you an idea on what the average cost for your painting project will be, it also allows you to meet with the painting contractors to get a feel for them and their business. While price is important, it is very import to find a company you are comfortable working with, and if at first you don't find a good fit, by all means ask for other painting companies to walk through your planned house painting project and give you a bid. Repeat until you find the RIGHT House Painter, at a fair price for the job
Compare the Specifics of Each Bid
It's tough to over-emphasize the importance of hiring house painters that provide detailed bids. Deciding between two, three or more painting contractors is hard enough, and it is made more difficult if you're relying on pure guesswork when it comes to the differences between the bids. For instance, a bid that is "scribbled down on a napkin" or that is generic with no details is not even comparable to a complete and detailed bid.
Estimate Flexibility
If you're comparing two bids and you really do want the more expensive painter, but your budget just won't allow it, ask the painting contractor if they can work with you to get the paint project in line with your budget. This could include changing some of the parameters of the painting project or asking for a discount to reduce the cost based.