How to Efficiently Install Ceiling Medallions
What Are Ceiling Medallions?
Ceiling medallions are decorative disks that are attached to the base of a ceiling lighting fixture. These ceiling additions are generally circular and include floral patterns, flowing curves and other decorative features.
Originally (from the early 1700s through the early 1900s), ceiling medallions were used for mainly safety reasons as they protected ceilings from candle burns. They were especially loved by the Victorians who cherished a ceiling medallions deep relief patterns and detailed ornate features. While they were once used for practical purposes, today they serve a decorative role.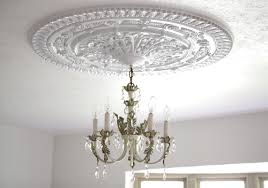 Gather Tools and Equipment
Before you get to work, you'll need to select a ceiling medallion that works with the room. Choose one that's the right size compared to the total square footage of the space, ideally with a ratio of about 1-7. If you aren't sure whether the medallion you've been eyeing will work with the space, try creating a paper or a cardboard cutout and testing it out in the room. The ceiling height can affect how well a medallion fits the space, so don't hesitate to go bigger in a room with high ceilings.
Once you've decided on the perfect decorative element, take a few minutes to gather all the tools and equipment necessary for this DIY project. You'll need the following:
What You Need
Polyurethane ceiling medallion
Wire nuts
Drill and large bit
Drywall saw
Sandpaper
Long threaded bolt (optional)
Paint for touch-up and finish
Adhesive caulk
Trim-head screws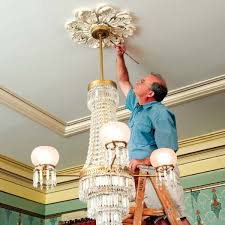 Find out how to install a ceiling medallion in six simple steps.
Step 1: Remove and Clean
Shut off the power to the light that you're removing and take down the fixture. Cover all wire ends with wire nuts. Thoroughly level and clean the ceiling where you will hang the medallion.
Step 2: Measure Medallion Hole
If your ceiling medallion doesn't have a hole, you'll need to create one for the light fixture. That hole will allow you to pull the light fixture's electrical wiring through, but it should be small enough to hide the wiring. Measure the light fixture's cover plate, and transfer that measurement to your medallion. Draw a second circle approximately 1/2 inch smaller inside the first circle. This is the hole you'll to cut.
Step 3: Cut Medallion Hole
Using a large bit, drill a hole in the center of the medallion to provide access for the drywall saw. Insert the drywall saw into the drilled hole and cut along the small circle you just drew. Sand the hole edges smooth. Then check that the light fixture's threaded bolt is long enough to reach past the ceiling medallion. Use a longer threaded bolt if it's not.
Step 4: Prep Medallion
Paint or finish the medallion as desired. Apply adhesive caulk to the back of the ceiling medallion; center and attach to the ceiling.
Step 5 : Caulk Around the Medallion
After you've placed the medallion, you'll need to touch up both the decorative element and the ceiling. First, apply a small amount of caulk on top of each screw, and allow the caulk to dry. Next, check for exposed areas between the ceiling and the medallion. If you noticed any, apply a bead of caulk all the way around the medallion to eliminate voids. Be sure to smooth the caulk after application. When the caulk over the screws has dried, paint over it to create a flawless surface on the face of the medallion. Use the paint to touch up any additional areas on the medallion or on the ceiling.
Step 6: Secure Light Fixture
Reattach the light fixture. Turn the power back on.
There is a common opinion that exists that ceiling medallions, as well as other decorative architectural elements in the room, have to be painted white. This point of view is not always correct. You should coordinate colors of the ceiling medallions and other decorative architectural embellishments with the overall color theme of the room.
If ceiling medallions are used in traditional decor, the details can be highlighted in a tone down paint, creating a subtle tone-on-tone effect. An interesting effect can be achieved on the ceiling medallions that are molded in deep relief using a "dry brush" technique when you go over base color with dry brash using deeper color.
If you want to achieve a bolder effect, you can highlight ceiling medallions design with gold, bronze, silver, or brass paint. If ceiling medallion is used along with a lighting fixture, the decision of the metallic paint choice should be based on the kind of finish metal part of the chandelier or other lighting fixture has.
Faux finishing of ceiling medallions and other architectural elements now is very popular. Ceiling medallions can be faux finished using an antiquing technique, or they can be finished to look like wood, stone, leather, or even fabric.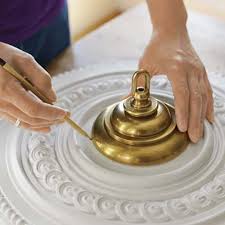 Ceiling Medallions Finishes
Verdigris
Metals such as bronze, copper, brass, steel, and lead naturally tarnish and corrode with time. Verdigris is an excellent finish for creating the illusion of distressed metal or oxidized copper. Faux verdigris imparts an aura of antiquity to architectural details and ceiling medallions.
Applying this technique to a ceiling medallion is a great way to complement a chandelier or lantern which has this "rustic" detail applied or has naturally tarnished with time.
Metallic Finish
Allow this distinctive and fashionable finish to be the center of attention in any room. Using all architectural products, you can design and compliment a complete room using this bold technique.
Make your job of finishing even more effortless by not having to worry about pre-treating or priming any of our ceiling medallions before you begin. This technique fits any style of decor, from contemporary to antique applique.
Stenciling
Stenciling offers a quick and simple way to add pattern to any painted surface. Apply decorative stencils to ceiling medallions to complement and accent any room. Precut stencils are available in myriad styles – the options range from traditional Early American to sophisticated to whimsical.
With typical stenciling folk art form, you can match any of our architectural products. Tie your entire room together from your rug right through to your furniture.
Decoupage
Decoupage, derived from the French word "decouper," meaning to cut out, is the creative art of pasting, assembling and varnishing paper cutouts for accenting objects.
Combine this wonderful detailing and whimsical finishing option with other methods to create an even more unique effect. The decoupage artist is limited only by his or her imagination.
Marbleizing
Faux marbling brings out the lavish details of the ceiling medallions. Create an elegant feel by marbleizing your ceiling medallions to match your floor or to create a conversation piece which draws the attention of your guests..
Marble is an intricate pattern stone. Re-creating it requires some skill and judgment but is not as challenging as you might think. Remember, base coats are easily applied directly to any of our ceiling medallions because of their pre-finished treatment..
How to Choose the Right Ceiling Medallion
Choosing the right ceiling medallion for your room involves considering both the size proportions and the decorating style of your room.
Sizing Considerations
When choosing a ceiling medallion for your home, numbers play an important role, since the proportions of the medallion must be in the proper ratio to the room size.
Here's how to choose the correct size:
Measure the width and length of the room.
Multiply the numbers to get the square footage of the room.
Divide the number by 7. This number is the proper diameter in inches of your ceiling medallion.
This is not a hard and fast rule since the size of the light fixture also plays a role. Generally speaking, aim at sizing the medallion so it is roughly the same diameter as the chandelier. But in very ornate rooms with lots of trim moldings, the medallion can be larger in diameter than the chandelier. In smaller, plainer rooms, it's appropriate to size the medallion so its diameter is less than that of the light fixture.
Style Considerations
While medallions are in general most appropriate for large, ornate rooms, within that general recommendation you have dozens of options—from simple disc medallions that are well-suited for Colonial-style homes to intricately shaped designs that work best in homes with the feel of an Italian villa or French chateau.
Designers usually recommend using the shape and style of other room elements to help guide your choice of ceiling medallion. Crown moldings and chair rail moldings, in particular, may give you clues as to the best patterns for a ceiling medallion. Remember that the medallion is an architectural feature and should be matched to the style of the room. If the other moldings or trim work in the room have identifiable motifs, try to match these in your ceiling medallion.