What building owners need to know
If you own any sort of commercial building, maintenance should be one of your big concerns. Whether it contains your own business or somebody else's, it's your job to ensure that it is well taken care of to provide the utmost safety and comfort for occupants. Clearly, the roof is one of the most important parts of a building, which is why you have to be sure that it offers the best protection. Over time, a roof wears out and stops doing its job properly, but when is a replacement necessary? Let's examine the factors that have an impact on the longevity of a roof, along with the average lifespan of common roofing materials. We will also discuss the best ways to keep a roof in tip-top shape for as long as possible.
Commercial roofing isn't like residential roofing, mainly because the square footage is typically bigger. Commercial roof construction must be stronger, from the commercial roof decking to the framing. Most commercial building roof types are flat, and this requires a roofing contractor that is experienced in the construction of commercial structures and flat roofs and how to repair commercial roofs.
The building's overall health is integral in determining the commercial roofing style and longevity too. Considerations include the climate and environment, extraneous variables like animals and foliage, all things that can impact commercial roofing's integrity.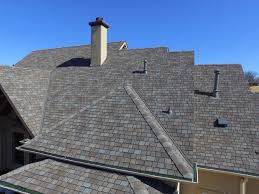 How long should a commercial roof last?
Here, we will list 6 common commercial roofing classifications with a brief description and reasons that it may be the right style for your commercial roofing needs:
Built-Up Roofing Membrane: Also known as BUR roofing, is the standard commercial roofing of multiple layers of tar & gravel. The quantity of layers varies which can help with budget concerns yet is durable commercial roofing material.
Metal Roofing: Another popular choice for commercial roofing, metal roofing is available in different types of metal, some of which are Aluminum, corrugated galvanized steel, metal tile, and more. Because metal is predisposed to rust, a protective surface layer is added to prolong any damage from the environment, like UV rays. Metal roofing now comes with an attractive and finished look, they are fire-resistant and are known for durability and strength.
Modified Bitumen Roofing: Roof fabrics that have been reinforced are applied cut for installing layers, comparable to the membrane of BUR roofing, and is typically affixed to commercial rooftops in a two-ply system that is stuck to the roof decking for protection and stability. Modified bitumen roofs have simple maintenance requirements, a routine schedule of cleaning and inspection is the biggest requirement. If you expect an abundance of foot traffic on your building's commercial roofing, like HVAC installation or repairs, plumbing vents, etc., modified bitumen is the ideal roofing material.
EDPM: EPDM or Thermoset commercial roofing system are durable, long-lasting, and versatile. Installation is easy, making it a favorite among commercial roofing contractors, and when paired with easy maintenance and repairs, it is popular among building owners too. Made of ozone and UV ray resistant single-ply rubber material that is flexible even in cold weather, strong resistance to alcohol, solvents and some acids. It provides a reflective property that minimizes energy costs for cooling, a big plus in the southern areas.
TPO and PVC: Thermoplastic Polyolefin and Poly Vinyl Chloride commercial roofing systems are highly reflective, lightweight, durable against weathering while resistant to punctures, tears, and UV rays as well as most chemicals, animal fat, bacterial grown, and oils. Thermoplastic commercial roofing has seam strength, perfect for second applications. It has a high tolerance to fire, high temperatures, and high winds. A popular commercial roofing membrane for structures that house restaurants or any business that emits fats or oils through the ventilation systems.
Green Roofing: Today, commercial roofing is going toward green roofs more and more. They are versatile as well as sustainable and provide an excellent layer of protection, water management, and energy efficiency.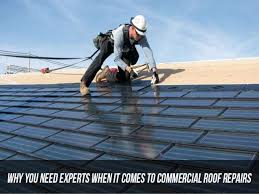 Factors that affect a commercial roof's lifespan
Weather
As strong as a roofing system may be, it's really no match for Mother Nature. Eventually, all of the rain, snow, ice, and wind will erode it. Sun exposure is another thing that causes quicker roof deterioration, particularly when the material is a dark color.
Installation
Often, a poorly-installed roof is the reason why a roof fails prematurely. Even minor flaws during installation can drastically shorten the lifespan of a roof. This is why it is vital to be selective with the company you choose to handle your commercial roof.
Ventilation
When a roof isn't ventilated well, a couple of different things happen. In hot weather, all of that heated air can literally cook roofing materials, especially asphalt. In cold weather, poor ventilation can lead to the buildup of ice. Plus, when moisture gets trapped inside, this can cause mold or rot in the roof's structure.
Slope
A roof's slope or pitch also plays a role in how long it will be able to hold up, as it determines how well a roof can get rid of water. With low-sloped roofs, water typically isn't shed very quickly, which results in a buildup. And the longer water is pooled on a roof, the higher the chance that it can cause a leak or even structural damage.
Maintenance
Even if a roof looks just fine, it can't be neglected. A commercial roof should be examined regularly to ensure that it is doing its job properly, particularly after periods of harsh weather. Too often, building owners ignore basic maintenance and small issues that could have been easily taken care of result in much bigger problems.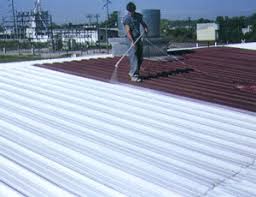 Ways to get the longest lifespan out of your roof
Perform regular inspections
As mentioned, a lack of care is one of the common causes of early roof failure. At the very least, your roof should be looked at by professionals every year. With a preventative maintenance plan, experts will be able to spot problem areas and make the necessary repairs. This could also involve the removal of debris and the cleaning of drains and gutters.
Make immediate repairs
Roof issues can escalate quickly. Just because something is minor today doesn't mean it will stay that way very long. Once something is discovered, it has to be taken care of as soon as possible. Because a commercial roof is comprised of so many parts that have to work together, everything is related. This is why waiting too long to fix something can put the entire system in jeopardy.
Apply the right coating
One of the best ways to have a long-lasting roof is by applying a coating. Coatings restore a roofing material and offer protection from UV rays, as well as limiting the effects of expansion and contraction cycles. Coatings are especially beneficial for roofs that get a lot of foot traffic. It's important that a roof gets the right coating, and there are quite a few different types to choose from, including acrylic, solvent-based silicone, and polyurethane.
Only use experts for installation
When it is time for a new roof for your building, the best thing you can do to ensure it lasts for as long as possible is to only use qualified roofing contractors. They will make sure you get the best type of system and that it is installed correctly. They should also be able to provide you with other services, including preventative maintenance and repairs.
Do flat roofs always leak?
No, they do not. The first thing that any owner of a commercial building is that a flat roof is not truly flat. It has some slope to it that allows water to drain. However, if the flat roofing wasn't installed properly, or the drains become blocked or clogged, then water will pond and if allowed to sit there, eventually it will seep through under the membrane and on to the ceiling to leak. Flat commercial roofing can develop a leak if the membrane seams separate or any flashing around pipes, vents or other intrusions become loose or pulled off.
Can I change a flat roof to a pitched roof?
Most commercial buildings have a flat roof, it is almost standard roofing, but there are some that have a pitched roof for various reasons. While it is difficult, it is possible to convert flat commercial roofing to a pitched style. The first thing you must do is to check building codes for your jurisdiction. Next, check with your insurance company on coverage changes.  Last, but not least, find an experienced, reputable contractor to do the job.