Different Types of Flat Roof Material Options
01. Various Flat Roof Material Options
We love the flexibility of a flat roof for certain design limitations, but they have a bit of reputation for leaks and repairs.
Of course, flat roofs are not flat but have a very slight roof pitch of between 1/4″ to 1/2″ per foot. Just enough slope to drain water but also flat enough to be a problem if not constructed properly.
The good news is that there are material options for your flat roof beyond traditional hot-mopped built-up roofing that will increase the reliability of the flat roof.
Let's review the most common categories of flat roof materials available for your home:
Single-layer membrane roof
Modified bitumen roof
Built-up roof (BUR)
Single Layer Membrane Roof
The membrane roof is the latest roofing technology and is also the roof of choice in commercial construction. Known technically as elastomeric or plastomeric roof membrane (depending on the material), single-ply roofs come in a few different varieties including:
Neoprene (polychloroprene)
EPDM (ethylene propylene diene monomer)
PVC (polyvinyl chloride)
Chlorinated polyethylene and chlorosulfonated polyethylene sheets
Polymer-modified bitumens
Of all these membrane types EPDM, synthetic rubber is the most common single-ply membrane roof material in both residential and commercial use. So all you need to be able to say to your roof contractor is you want an EPDM rubber roof.
These roofs are installed as thin sheet materials 0.030 (30 mils) to 0.060 inches (60 mils) thick and are applied to the roof in a single layer. Being made of synthetic rubber or polymer, they are flexible and elastic and can handle temperature changes and some impact types better than built-up roofs.
Membrane roofs are attached in a variety of ways. They can be partially loose laid and held down with river rock ballast (requires roof structure to support the weight) or fully adhered to the roof deck. EPDM and Neoprene roof seams are fastened by adhesive and PVC roof seams are heat or solvent welded.
02. Modified Bitumen Roofing
Modified bitumen cap sheet roofing was developed in the 1960s as a replacement technology for BUR, or built-up roofing, by using the proven technology of BUR but also adding polymer reinforced roof wear layers or cap sheets.
These roofs can be installed using any number of techniques which are determined by the project's specific requirements and material specified. These installation methods include:
Hot applied
Torch applied
Cold applied
Self-adhered
The polymer used in the cap sheet provides improved elasticity and flexibility in lower temperatures. The most commonly used polymers are atactic polypropylene (APP) and styrene butadiene styrene (SBS). SBS imparts a rubber-like characteristic to the bitumen.
SBS cap sheets are usually installed using cold adhesives or hot asphalt tar. Thermoplastic APP sheets, on the other hand, are installed using the torch applied method.
03. Built Up Roofing
Going back about 120 years, the grandfather of flat roofs is the built-up roof or BUR. Built-up roofs have solved the low pitch roof problem for ages, a challenge that asphalt shingles could never handle.
Built-up roofs are installed using several layers of a special type of roofing felt that has been asphalt impregnated and embedded in bitumen applied with a hot mop.
The hot-applied asphalt or coal tar pitch blends with the bitumen soaked roof felt and creates a monolithic roof membrane. The roof felt/asphalt tar layering is repeated in overlapping layers until the assembly is two to fours plies in thickness.
A wear surface of finely crushed stone granules is usually applied to the top layer of hot tar to protect the built-up roof assembly from UV light and weather.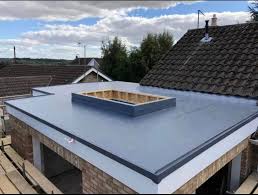 Why Do Flat Roofs Exist?
Before we get into comparisons of different flat roofing materials, it's important to know why they exist in the first place since they're seemingly such a hassle and an almost-immanent leak threat.
There are two main reasons behind why a contractor would call for a flat roof:
1 aesthetics
2 convenience.
For example, when you're adding on to a home (building an addition) with something like a three-seasons room, a flat roof simply looks nicer. Homes with unblended roof pitches can be an awkward eyesore.
In commercial buildings, flat roofs, outright, offer a more convenient place to install outdoor HVAC units rather than putting them in high-traffic ground areas.
Of course, any roof's main job is to create a barrier of protection between the building below and the atmosphere above. Therein lies the conundrum associated with flat roofing. For all the aesthetics and convenience, the design doesn't do a lot to avoid snow and water buildup.
To be fair, flat roofs aren't completely 'bubble-level' flat. They work in much the same way as a gutter system, angled slightly or pitched a couple of degrees, so that water can flow into a downspout. Even so, flat roofing materials need to be able to absorb the brunt of the weather and to withstand ponding water or snow and ice until it melts.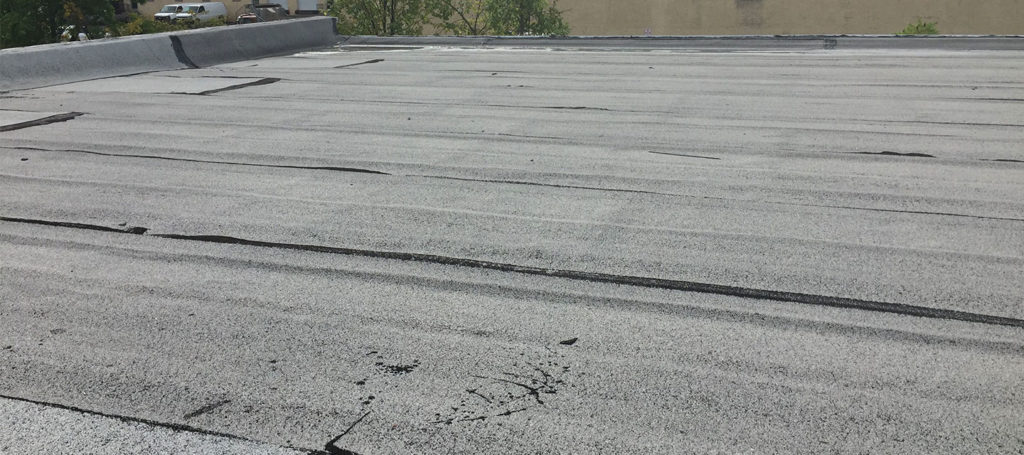 4 Best Flat Roof Materials
PVC Roofing
For many projects, PVC roofing is our preferred choice as the best flat roof material on the market. PVC roofing is somewhat more expensive than other single-ply commercial roofing materials, however it offers a wide range of benefits for the price. First, the reinforced membrane makes PVC roofs resistant to impact damage and the cracking which normally shortens the lifespan of single-ply roofs. PVC roofing is one of the best flat roof materials because it is low maintenance with a long lifespan. At J. Smucker Contracting, we offer a 20-year warranty on new PVC roofing we install. In addition, just like TPO roofing, PVC is a reflective white color which is useful as it dramatically lowers the business's energy bills.
A commercial standing seam metal roof is the ideal choice for a building with a roof slope greater than 2 inches. Metal is different from most other commercial roofing material types for a few reasons. Due to the expert installation process and the nature of the material, metal is the most expensive roof type to have installed. However, metal roofing has the longest lifespan, lasting between 20 and 30 years. Metal is an extremely durable material and is immune to cracks that affect single-ply roofs. However, metal roofs can be susceptible to leaks around the seams and roof edges.
This very popular roof type is also among the best flat roof materials to install. Not only is a TPO roof an inexpensive option, it has a decent lifespan between 10 and 20 years. In addition, these white-coat roofs have all of the same energy saving properties as PVC roofs. Plus, they require less maintenance than EPDM roofs, as the seams are heat welded to prevent leaks.
When compared to other commercial roofing materials, modified bitumen stands out as the more-budget friendly option. Modified bitumen roofs use an asphalt membrane as the base of the roof itself. This surface is susceptible to cracking and blistering which reduces the typical lifespan to just 10 to 15 years. While the lifespan is less than the more advanced options, the price point alone can make modified bitumen one of the best flat roof materials for some businesses.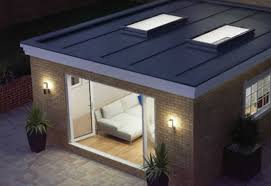 Why Are Flat Roofs Less Common For Houses?
Also known as low slope roofs, flat roofs are less common in North American residential construction because the low slope of a flat roof has an increased tendency to collect water rather than shed, like its more steeply pitched alternative. This may make it less ideal for rainy or snowy climates.
Keep in mind, all flat roofs have a slope of between five and 15 degrees to allow water to flow into drain systems (such as eaves, drainage holes or outlets).
So, even though flat roofs are ideal for drier landscapes, in climates with heavy precipitation, a properly installed flat roof can be a fine choice for a homeowner – especially thanks to ever-improving waterproof materials and installation techniques.
Flat roofs are an attractive aesthetic choice that give homes a unique form. If you love the landscape or cityscape around your home, a flat roof can help complement that without obscuring the view.
Flat Roof Space Is Usable Space
Unlike a steeply pitched roof, most of the square footage of a flat roof is available for use. This offers the option to add a unique application such as a rooftop patio, garden or green roof. Solar panels also are popular among homeowners and are much easier to install – and hide from view – on a flat roof.
Any of these applications will require certain design considerations (such as adding guardrails and other safety protections and/or using more heavy duty materials to handle roof traffic and weight). Special permits may be required from the local building authority, but these efforts may result in an entirely new feature to enjoy on your home.
It Performs And Protects Well
Flat roofs are a cost-effective option for homes – thanks to generations of use in commercial flat roof construction, modern materials and application techniques – as viable, protective and long-lasting alternatives to pitched roof counterparts.
By choosing the proper materials, hiring an experienced professional to build and install the flat roof, and committing to regular inspection and maintenance, homeowners may count on many years of reliable performance when selecting a flat roof solution.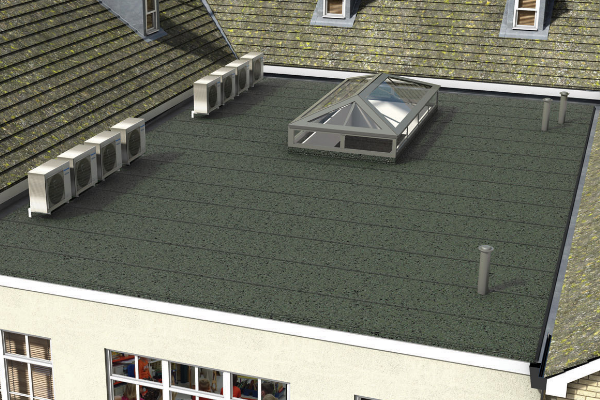 When are Flat Roofs Used?
Flat roofs are often used on structures that are not a standard part of the living area. For example, extensions and garages feature flat roofs, as do outdoor living spaces that have been built in the garden.
One of the main reasons is that flat roofs, which generally feature a pitch of 10° and under, are not as thermally efficient as pitched roofs. This makes them ideal for dry, warmer environments where heat retention is a lot lower.
Planning restrictions in some towns will require flat roofing to be installed. For example, if the use of a pitched roof is deemed to be too high as it may obscure the view of surrounding residents and possibly block out light, a flat roof is likely to be the recommended alternative.
A flat roof is usually the preferred choice for extensions likely to be positioned nearby to an existing structure. There are also instances where a new flat roof is installed to replace an outdated roof system. This is often the case with corrugated tin roofs which are no longer allowed under current UK building regulations.