Places Most People Forget to Clean
Places Most People Forget to Clean When you're giving your home a spa day, and cleaning from top to bottom, there may be some places you forget about. Let's take a look at some of the most commonly missed areas when it comes to cleaning. Under the Large Appliances Cleaning beneath and around the refrigerator and stove may seem like a daunting task, but it should be done from time to time. It's not uncommon for dirt, dust, and even food waste to accumulate in these areas.When cleaning the refrigerator area, pull the appliance away from the wall.
Under the Large Appliances
Cleaning beneath and around the refrigerator and stove may seem like a daunting task, but it should be done from time to time. It's not uncommon for dirt, dust, and even food waste to accumulate in these areas.
When cleaning the refrigerator area, pull the appliance away from the wall. This is an excellent time to clean the coils on the back of the fridge using a vacuum cleaner or coil cleaning brush. Use a damp microfiber cloth with a little soap to wash the walls, the sides of the refrigerator, and the floor. Put the fridge back in place… don't you feel cleaner already? Follow these same steps for your stove.
Shower Curtains
Shower curtains are the perfect place for mildew and mold to grow. You don't need to throw your shower curtain away or replace it when it gets dirty. Put your shower curtain (and liner) in the washing machine. Wash some towels along with them. Use detergent like you usually would, but add in a cup of baking soda, and watch the magic! Everything comes out clean and bright!
Doorknobs and Light Switches
These areas are touched one hundred times a day. Don't forget to wipe them down regularly to keep your home clean and prevent the spread of viruses and bacteria. Use a multipurpose cleaner or a damp cloth with a bit of soap to keep these areas germ-free.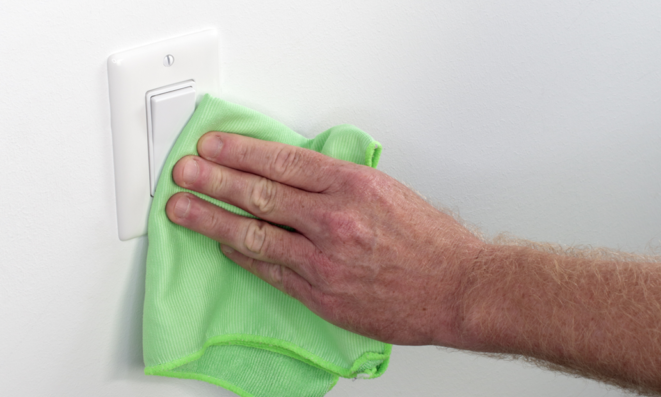 Spring Cleaning?
ESTABLISH A ROUTINE
"No one wants to spend their entire Saturday cleaning house," says Johnson, a proponent of both clean living and free Saturdays. While skeptics doubt the two can go hand in hand, Johnson knows otherwise. "Divide and conquer," she urges. Break down the overwhelming task of spring cleaning into more manageable 30- to 60-minute cleaning sessions so it isn't paralyzing. Select a specific area to tackle; for example, clean the master bath and bedroom one afternoon, and the living room and dining room the next.
BEST DUST ELIMINATOR
Microfiber cloths occupy the top spot on Johnson's list of basic cleaning supplies, because unlike other dusters, microfiber cloths grab dust rather than push it around. Johnson color-codes her cloths for use in different tasks like dry dusting or cleaning the kitchen, bathroom, or mirrors—and she keeps them straight. Microfiber cloths can be washed up to 500 times (on delicate with other microfiber cloths), so they are eco-friendly too.
KEEP ORGANIZED
Since organization expedites cleaning, Johnson recommends storing supplies in one portable carryall, such as a Rubbermaid tote. Make sure to have the following nine essential cleaning products and tools on hand: a general-purpose cleaner, bathroom cleaner, floor cleaner and degreaser, a good scrub brush and grout brush, a vacuum with several attachments, a mop or steamer for hard flooring, and of course, plenty of microfiber cloths.
HOW TO CLEAN A ROOM
"Work from top to bottom and dry to wet," instructs Johnson. Remove dust with a dry cloth before washing the area because the combination of water and dirt creates clingy gunk. When starting to clean in any room, work high first, tending to cobwebs, crown molding, ceiling fans, windowsills, ledges, and glass before hitting baseboards, doors, and light switches. Once the periphery is done, move on to furnishings, decorative items, and bedding. Spring is an excellent time to switch out curtains and flip mattresses.
USE LESS PRODUCT
There's a general misconception that using more product will get a surface cleaner; on the contrary, too much of a cleaning solution builds up residue. Too much soap, for example, leaves floors sticky. In addition, when you use too much product, you waste time rubbing it round and round.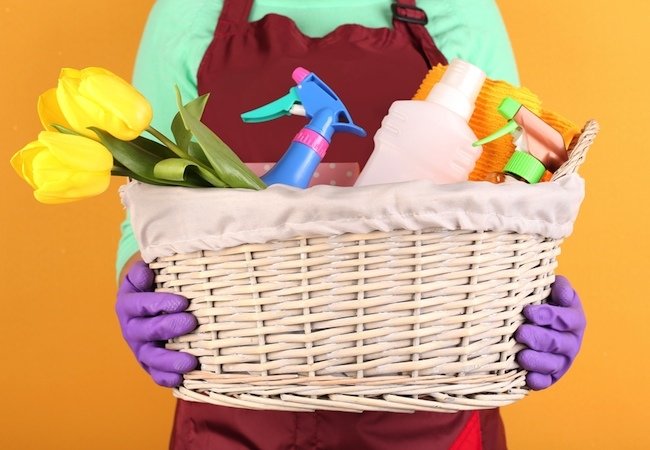 Helpful Cleaning Tips
Tips and Tricks
Use dryer sheets on mini-blinds and T.V. screens to prevent recurrent dusting
Use walk off mats at entrances to catch dust and dirt. Usually made of nylon or olefin with rubber or vinyl back
Put knick-knacks in the dishwasher for a good cleaning
Shower curtains can be renovated by being washed, on gentle cycle, with a pint of white vinegar
Put your sponges in the dishwasher every couple of days to disinfect
When dusting start from the top and work your way down
Wash walls from the bottom up, it prevents streaking. Use a vacuum on "flat" paint
Use old socks to clean difficult woodwork
A few drops of vanilla extract placed on a cotton ball will remove odors from refrigerators, cars, bathrooms, etc…
Change furnace filters monthly, it will cut down on dust and prolong the life of your furnace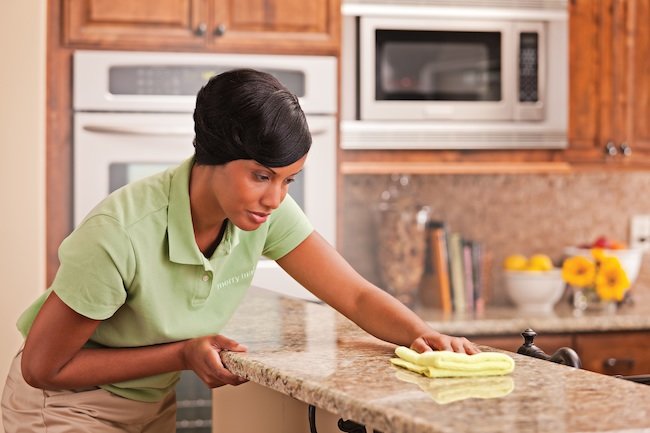 Pro Tips to Get Cleaning Done Fast
Make a Schedule and Stick to It
Set aside a specific time to get your chores done. "Nobody hires a cleaning service that promises to arrive some random Saturday when nothing else is happening," Cynthia Townley Ewer, author ofHouseworks, says, "Take a tip from the pros and set up a regular cleaning schedule. Pros don't quit until the job is done. Schedule the job and stick to it to get the work done in record time."
Find a Motivator
Cynthia suggests using motivators to prevent distraction and head off boredom. "Play your favorite upbeat music. Listen to a book on tape so you'll feel as if you're accomplishing two tasks at once."
Dress for Success
Professional cleaners dress in comfortable, washable clothing designed for work. Supportive shoes and kneepads spare their bodies. Goggles and gloves protect against chemicals. Throw out the bleach-stained sweatshirts, and create a cleaning uniform that includes shoes, gloves and eye protection.
Invest in Proper Tools
"Professional cleaners don't use gadgets. You'll never find them toting specialized one-time-use tools or the latest gimmick hawked on a TV infomercial," according to Cynthia. "Buy good tools — once — and use them, and you'll be finished in record time."
implify Supplies
"There's a reason the pros can tote all the products they need in one tray," Cynthia explains "They've simplified their cleaning products down to four basic supplies:
Powdered abrasive cleanser
Tile and bathroom cleaner
Heavy-duty degreasing cleaner
Light-duty evaporating cleaner (glass cleaner or multi-surface cleaner)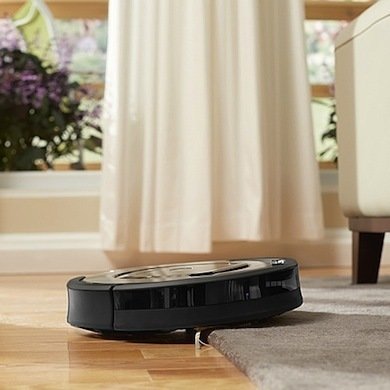 House Cleaning
How to do room-by-room home cleaning?
American families have less free time than ever to tend to house cleaning chores, but it becomes an overwhelming task if you don't keep up with it. Here are some professional house cleaning tips for each room and how often to clean the most frequently used living areas of a home.
Cleaning kitchen and dining areas:
If you do nothing else daily, make sure you wash the dishes and clean the sink and countertops. Wipe up messes on the stove and inside the microwave. Floors are a constant cleaning job depending on what's been dropped, but if you've managed to keep it reasonably clean, mop weekly. Every few weeks, run a cleaning solution through the dishwasher to prevent buildup and ensure sparkling dishes.
It's also a good idea to clear out the refrigerator before your weekly shopping trip. This way, you're removing what's spoiled and making room for fresh groceries. Every six months or so, remove all the items from your kitchen cabinets or pantry cabinet and wipe down the shelving. This also is a good time to go through your canned and other packaged goods and throw away items that have expired.
Living room/family room cleaning:
The main problem here is clutter. Make it the responsibility of every member of the family to put away items they left out.
Dusting should be done weekly, or at least every other week. If you can write your name in the dust, you've waited too long. Wipe down often-used surfaces like table tops, mop floors and vacuum carpets. Some people like to move their furniture around a couple of times a year so they can reach areas they don't routinely clean, such as under the sofa or chairs or behind book cases.