What Information You Need To Know About Laminate Flooring
WHAT IS: LAMINATE FLOORING
With the look and texture of wood or stone, laminate flooring is a tough and durable man-made product that is easy to clean, pet-proof and easy to install. Laminate makes a great choice for anyone looking for a floor they can fit and forget, even in the busiest parts of the home. With different thickness, widths and lengths, laminate is great for homes that want the look of wood or tile, but with a floor that delivers great value. Packed to the brim with easy living advantages, modern generation laminates are ideal for homes that want a good looking floor on a budget.
Where to use Laminate Flooring
Hard wearing, laminate flooring can be used in most areas of the home including dining and living rooms, hallways, kitchens and bedrooms. However, it is important to remember that it's still a natural product, so we do not recommend laminate flooring in bathrooms or any other high moisture environment.
If your home has underfloor heating, then laminate is also completely safe for use as it is stable enough to withstand direct heat. However, when turning on the underfloor heating for the first time, or after a prolonged period of being turned off, increase the temperature gradually over a period of days so that the floor can acclimatise to the change.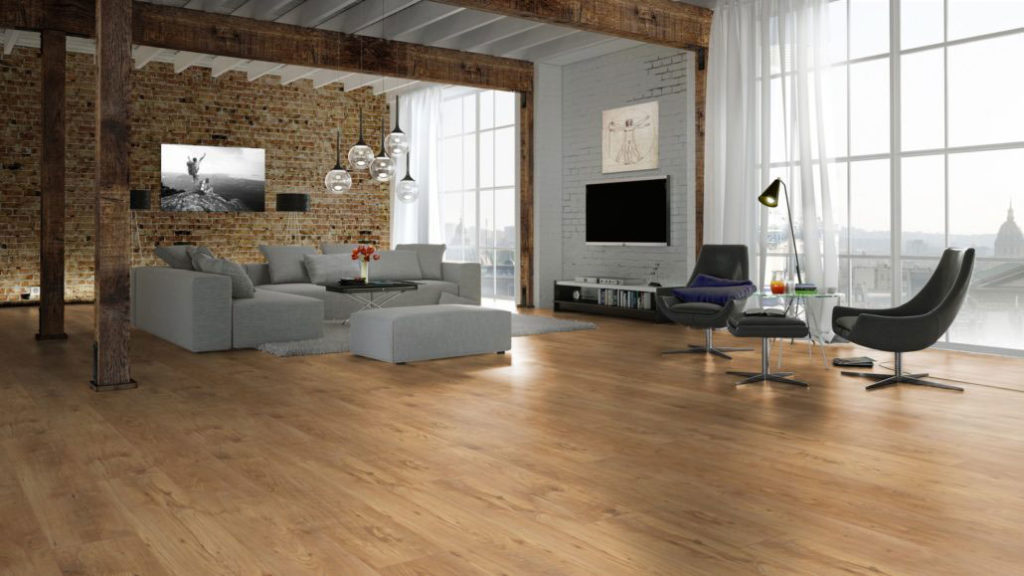 3 Things To Consider When Choosing Laminate Flooring
Now that you've gone through a crash course on the types of laminate flooring that are available in the market, let's fine-tune the selection process.
Here are 3 things that you should consider when choosing the type of laminate flooring for your home or office:
1. Foot Traffic
The volume of foot traffic will determine the level of wear and tear that your laminate flooring will go through. High foot traffic areas will result in more nicks and damage to your flooring. In the home, high foot traffic areas include the living room, the kitchen, and the dining room.
For high foot traffic areas, light coloured laminate flooring planks would be a better option because they can hide scratches, dust, and dirt better than dark coloured laminate flooring planks.
You won't have to clean and maintain them as much as dark coloured laminate flooring planks where even footprints are visible. Another good option for high foot traffic areas is Embossed Laminate Flooring. Its grainy texture that is similar to wood will hide scratches really well. The same can be said for laminate flooring with stone design printed on it.
2. Location
If the room is located in an area where there is an abundance of natural light coming inside, darker coloured laminate flooring can help subdue the level of brightness. On the other hand, if the room does not get enough natural light coming in, opt for lighter or brighter coloured laminate flooring.
In areas where you normally receive guests such as the living room, dining room, and kitchen, using laminate flooring with wider planks will give the space the impression of greater size. For the kitchen, a good choice would be laminate flooring with an underlay as it has been proven to be highly-resistant to mould.
3. Cost
Even though laminate flooring is one of the more inexpensive flooring materials you can choose for your home and office, you should still be mindful of its cost. It has been designed to be a no-frills option for your home or office renovation. As you have read, there are types of laminate flooring planks that do not need glue for installation.
Still, flooring is just one component in a home building or home renovation project. Choose laminate flooring tiles that fit your budget. You want to make sure your funds can cover the other refurbishing needs of your home or office.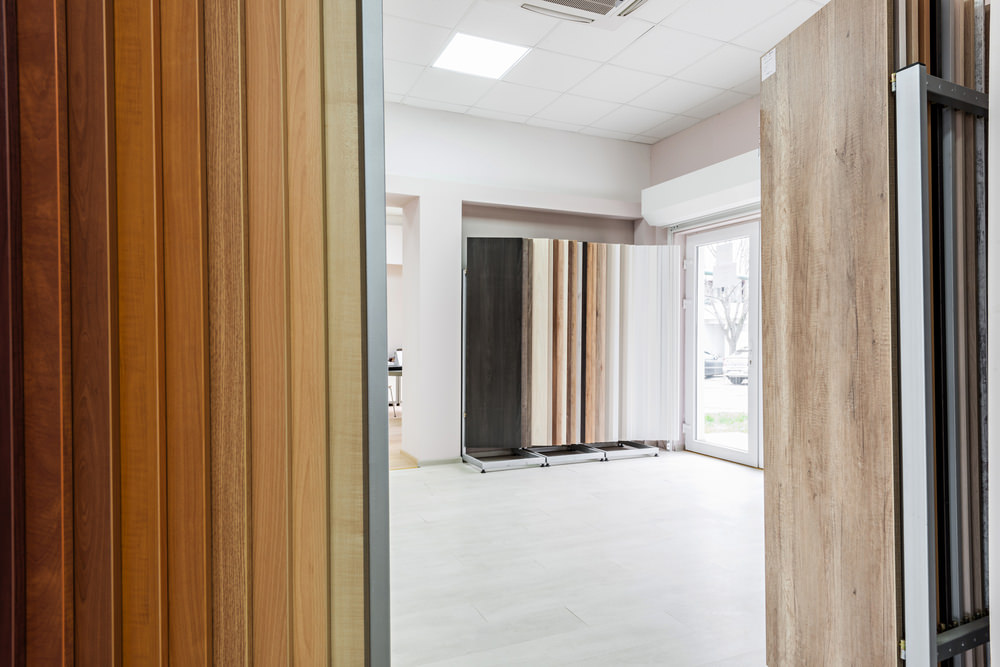 What kind of wear and tear will my floor be exposed to?
Laminates sure are tough and durable—but you need to pick the right laminate for the job. If you're laying a floor in an office exposed to lots of foot traffic, office chairs on castors and high heel shoes, you'll need to pick a laminate with a higher AC (Abrasion Class) rating. Matching the AC rating to your needs is easy.
AC1 Moderate Residential. Built to withstand only light residential use. Suitable for closets or bedrooms.
AC2 General Residential. Built for moderate foot traffic. Suitable in residential spaces that don't see a tremendous amount of wear and tear like dining rooms or living rooms.
AC3 Heavy Residential/Moderate Commercial. Built for all kinds of residential use including high–traffic rooms and even commercial spaces that have light traffic like offices without off-street traffic and hotel rooms.
AC4 General Commercial. Built to withstand every kind of residential use as well as more heavily trafficked commercial spaces that have off-street traffic like offices, cafes, and boutiques.
AC5 Heavy Commercial. Built for the busiest commercial uses and high–traffic spaces like department stores and government buildings.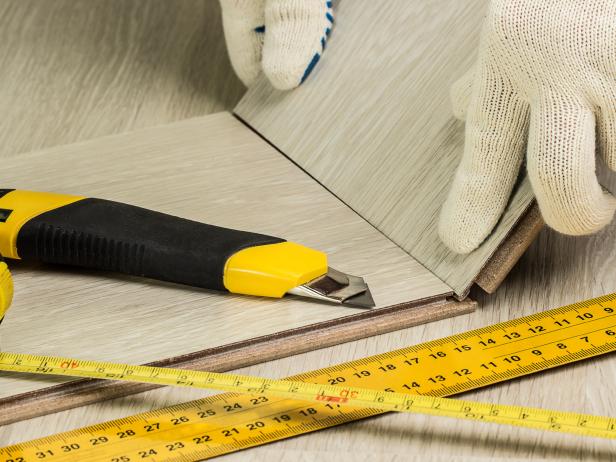 Maintenance
Laminate floors do not exist in a vacuum, although a vacuum can be a great way to clean a floor. The main thing to remember is that the material you choose will have to be cared for overtime. Some of the cleaning procedures for different products can be involved, rigorous, and require the purchase of a number of specialty items. Luckily laminate has a protective-wear layer which actually keeps most of the dirt and debris off of its surface, making it easy to sanitize whenever you think it is proper.
Cleaning laminate floors should generally only require you to sweep, vacuum, or dry mop regularly. For more intensive cleaning regimens a very mild soap and water solution can be used to gently scrub or mop specific areas. However, you mustn't allow water to form in puddles, or stand on the surface of the floor for prolonged periods of time, as it can cause damage in insidious ways.
Laminate floors are a great, low-cost, low-maintenance option for a variety of spaces. However, they do wear over time, and they are susceptible to water damage, so be sure that you only install them in locations designed for them.
What You Need to Know Before Installing Laminate Flooring
To make the job go smoothly and quickly, here's what else you need to know to gear up for installing laminate flooring.
Get the room ready by removing the base shoe and baseboards. Makes sure the floor is clean and level — installing over an non-level floor can lead to soft, spongy areas and may contribute to seams opening up. Tolerances are usually 1/4 to 3/8 inch measured over 10 horizontal feet. High spots on wood floors can be sanded down. Alternately, you can "fill" low spots with pieces of 30-lb. felt. Low spots on concrete slabs should be filled with leveling compound.
Measure the room to determine the total square footage of flooring you'll need, then add 5 percent for waste and mistakes. Remember you'll want to leave a gap of about 3/8 inch around the perimeter of the room to allow for the flooring to expand and contract with changes in humidity. That gap will be covered up when you reinstall the baseboards and base shoe.
Acclimate the flooring by bringing all the packages of flooring into the room. Open the packages and distribute the loose planks around the room in short piles. This helps the flooring stabilize to the ambient humidity in your room, a process that takes about 48 hours. Use the opportunity to inspect any planks for damage.
Prep door frame so that the flooring will slide underneath the trim and jamb (it's much easier than trying to cut an irregular shape to fit the molding). Use a piece of flooring and underlayment as a guide, and mark the door trim and jamb for trimming. Cut the pieces using a jamb saw — a specialty handsaw with an offset handle that makes it easy to cut near the floor. You can rest the saw blade on top of a piece of flooring to make sure you have a straight, even cut that's the correct height.