Tips for When You're Moving to a New Office Space
Start planning early
There's no such thing as "winging it" when it comes to moving to a new office space. You have to start the planning process early, divvying up who will be doing what, how they'll be doing it, and when it will be getting done. Otherwise, you may find yourself scrambling at the last minute, and nobody wants to be in the office all night throwing staplers in a box or trying to figure out how to get a dozen massive printers ready for transport. In addition to planning how you'll get everything ready for moving day, you'll also want to have a plan in place for where things will go when you arrive at your new office space. Use a blueprint to figure out office and common space layouts and figure out any new needs you might have. Figure that you'll probably have to set aside at least a few months to efficiently plan your office relocation, and a couple of months to actually get everything set up and ready to go. And don't forget to plan ahead for your moving budget—it's important to know how much you have to spend.
Appoint a move manager
Even if you're going to be dividing up the work, it's still important to have a designated move manager who can facilitate and follow up on each step to ensure that things are progressing. Usually the best person for this is an administrative assistant, but you may also choose to appoint someone who has past experience with commercial relocations.
Do research to find the best moving company
We always recommend researching and getting quotes from at least three professional moving companies before booking your move, but because an office move can get very expensive, very fast, you're better off looking at a couple more than that. If you have the budget for it, plan to hire a full service moving company—they'll do all the packing for you, as well as the loading, unloading, and unpacking. Ask around for recommendations of moving companies that have experience with office relocations, since you'll want to make sure you only hire a company with a proven track record of success in this area. To get the most accurate quote possible, have a representative from each company come to your office and see the scope of the work. With jobs like this, it's not enough to describe what needs to be done over the phone.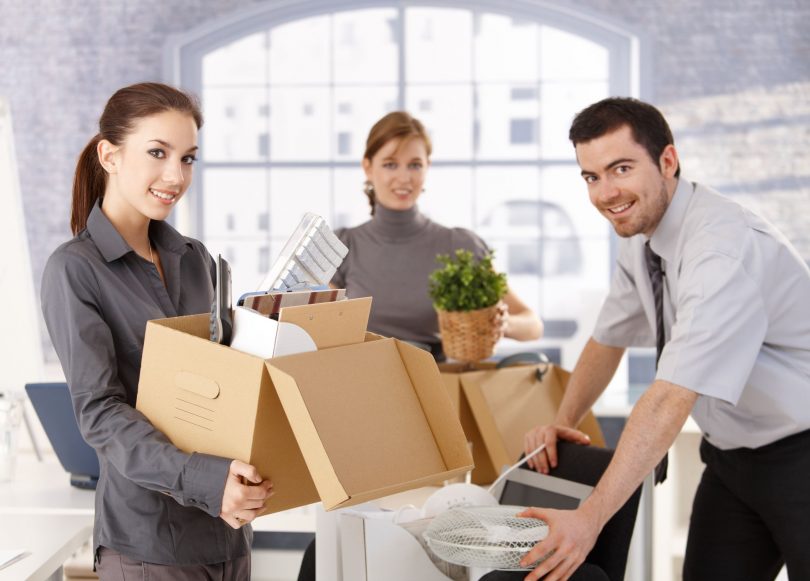 Tips to Reduce Office Moving Stress
Start the Planning Process Early
Moving in September? Then start planning now! Give yourself at least three months of time to put together a clear plan. Evaluate what needs to be moved and decide what should be donated or securely eliminated. While many charities do accept old office furniture, you can't assume the charity will be able to coordinate a last-minute pick up to coincide with your move. The same goes for the secure disposal of electronic equipment. Advanced planning will help streamline these logistics and eliminate unnecessary hiccups. Finally, don't keep employees in the dark about moving plans! Keep employees in the loop as your plans unfold so they can manage workflow appropriately and support a smooth transition process.
Purge Old Data and Recycle Electronics
Still have old employee laptops or phones lying around? (Let's face it, no one is going to fire up that BlackBerry from 2010 again!) From old office phones to computers, it's essential to dispose safely of these products both to protect your company's security and prevent harmful environmental damage for e-waste. Removing personal data from devices isn't as simple as just deleting your old files. Do not trade, sell, donate or recycle old electronics until you've wiped them clean. Consumer Electronics offers a detailed guide for erasing personal data from computers, tablets and even old BlackBerry phones. Once the data is fully purged, disposal options include community recycling programs and donation programs (like Dell Reconnect and World Computer Exchange). Some electronic companies like Best Buy and Amazon also offer disposal and buy-back programs.
Plan for Coverage During the Move
For most small businesses, it's simply not practical to completely shut down for an extended move. At the most, you may be able to close your doors for one business day and one weekend. If you primarily service clients remotely, let customers know that you may be a bit slower returning emails or answering phones during the moving period. If your employees are helping out during the transition period with moving-related duties, consider designating one employee as the emergency client contact. This ensures uninterrupted client support without moving distractions.
Move the Non-essentials First
Conduct a thorough analysis of all parts of your office and divide items between "essentials" and "non-essentials". Reduce downtime by moving non-essential items first to your new office space. Carefully label all boxes and bins to minimize unpacking hassles. Equipment that's necessary for day-to-day operations should stay in place until moving day.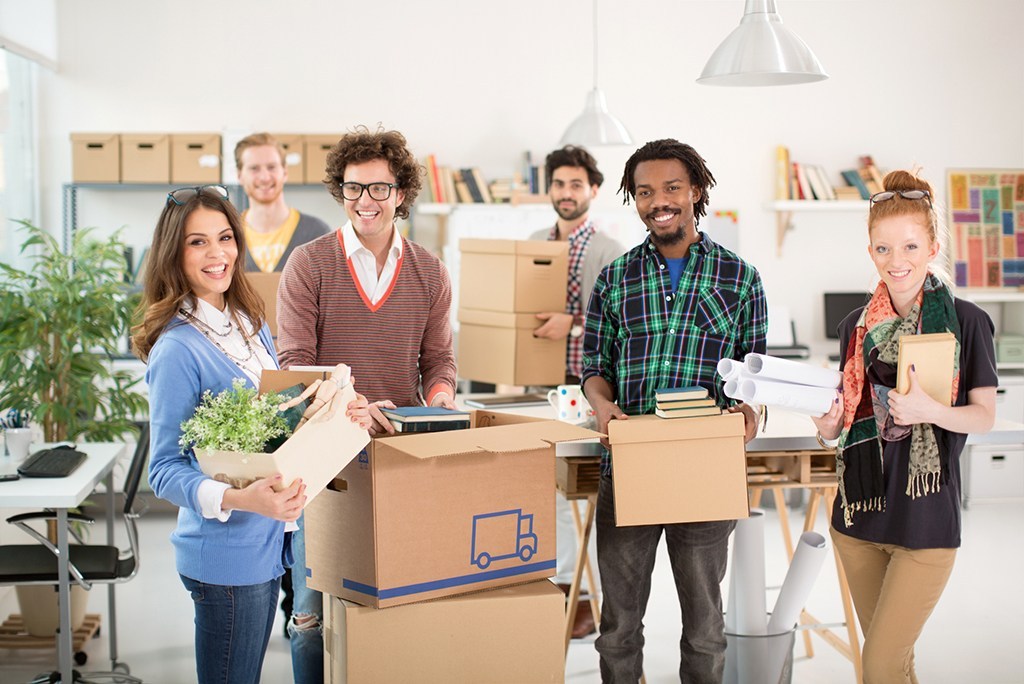 Must-Know Tips for a Smooth Move
Plan well in advance
If possible, start planning your move 4-6 months before you actually want to make the transition in order to attend to all of the details without becoming overburdened. Once you know you're moving into a new office scope out the space and decide on the layout, including where everything and everyone will go. That will allow you to plan out what your needs are as far as new office equipment goes, and give employees an opportunity to do their own planning ahead for their new space. Create a map or floor plan and make it available to both employees and movers so that everyone knows the plan moving ahead.
Hire your moving company early
Since moving a corporate office involves a lot of equipment and details, be sure to get a full estimate and hire a full-service moving company 1-3 months ahead of time. Make sure they have experience with commercial relocation and have them give you an on-site quote for the move — or even better, get recommendations from others in your network who have moved offices before. The movers should be held to the same professional standard as anyone else you do business with.
Get the IT Team on board
Give your IT team three months advance notice to start planning the transfer of all things technical: equipment, internet plans, phone connections, etc. They will need to evaluate the new space for any upgrades that need to be made, either to the infrastructure or to equipment being brought to the new office. When relocating a corporate office you want your landing to be as smooth as possible on the tech side, so do the legwork well in advance.
Do a deep cleaning
Don't bring things you don't need! Shred all unnecessary papers, get rid of office furniture that has been collecting dust and sell or donate equipment that you won't be needing anymore. Anything you choose to donate can be used as a tax write-off, so check with your accountants to find out what sort of paper trail you need to create as you purge.
TIPS TO HELP YOU ORGANIZE YOUR OFFICE MOVE
1. Decide if you will use full office relocation service movers before creating your project plan. If you decide to work with a full-service office mover, your mover (or move-management company) will handle the majority of the corporate relocation for you. This saves you and your team a lot of work and time! Once you select a relocation company, they should provide you with the detailed plan and help you manage the process.
2. No matter what, your office relocation plan must include the steps that your organization will take to select the best office mover. The plan will need to include a process to interview and hire a commercial mover with the experience, resources and manpower required for an efficient office move.
3. Before signing a contract, make sure the moving company you hire has insurance and get them to fax you a copy of it.
4. Inform employees of the upcoming move as early as possible. If you are making a long-distance relocation, discuss relocation packages. Keep employees informed throughout the process via regular emails, posted notices and announcements during company meetings.
5. Determine the required space needed in the new office. Plan for future growth if needed.
Tips to Make the Process Easier
1. Start early.
Depending on the size of your business and the number of people you have helping you with your move, you'll likely want to start the moving and packing process as early as possible. In some cases, moving a business involves more possessions than moving a home does, so the moving and packing process will take considerably more time. Don't be one of the many business owners who underestimates the time it takes to move. Save yourself the headache and optimize organization by starting early.
2. Invest in proper packing supplies.
Moving your business requires shuttling your commercial possessions – many of which are quite expensive – from one location to another. To keep your possessions organized (and in one piece), it's important to invest in proper packing supplies before beginning the moving and packing process. Essential packing supplies for commercial moving include cardboard moving boxes, bubble wrap or moving blankets, packing tape, clear zip-locked bags, and pens or markers for labeling.
3. Don't be afraid to donate.
For businesses of any size, moving presents an excellent opportunity to downsize or upgrade. If you have possessions in your business that serve little to no purpose – or if you have essential items that need to be upgraded – your move is the perfect time to get rid of them. Old phones, office furniture, printers, copiers, PCs and even stray office supplies are all great candidates for donation. Not only does donation save you the hassle of meticulously packing and moving these items, it may also earn you some extra money through a tax write-off. If you do plan to write off your donation, be sure to double-check which donation centers are registered charities.