THINGS TO CONSIDER BEFORE SWITCHING YOUR CARPET FOR HARDWOOD
In many homes, hardwood has replaced carpet as the primary flooring type, especially in rooms like living rooms and kitchens. New homebuilders are aware of the trend and have shifted their design choices accordingly. However, many older homes still have carpeting throughout, leaving homeowners with a dilemma. Should they remove the carpet and replace it with hardwood or leave it as it is?
Hardwood flooring has several benefits over carpeting, but there are some disadvantages, as well. Before making the decision to replace carpeting throughout your house, there are three questions you should ask yourself.
Will You Be Selling Soon?
Today's home shoppers are likely viewing a large number of homes with beautiful hardwood floors throughout. This has upped the game for sellers of older homes, who are now required to compete with brand new homes in the same price range. While hardwood flooring is the top request of homebuyers, this may not translate to every room. Some consumers have stated a preference for carpeting in bedrooms, which allows them to step onto a soft surface when they get out of bed in the morning. Hardwoods in areas like kitchens and bathrooms can also turn some buyers away, since these areas are prone to spills and moisture. For that reason, some homeowners choose instead to install tile or laminate flooring in these rooms.
Do You Have Allergies?
Carpet has gotten a bad rap for its supposed contribution to allergies and asthma. However, a 15-year study in Sweden determined no correlation between the two. In fact, the study pointed out that when carpet use declined in the country, allergies increased by 30 percent. Some postulate that carpet acts as a filter, trapping allergens that might have otherwise been floating freely in the air. If carpet is cleaned regularly, it may be a better option for families that are concerned about air quality. When handled by a qualified professional, even the most deeply-embedded particles can be removed, keeping the home free of allergens.
Are You Prepared for Maintenance?
Whether you find hardwood maintenance easier than carpet depends largely on your preference for sweeping versus vacuuming. Carpets should be cleaned at least once every one to two years—more frequently if your household has pets. Hardwood flooring removes the need for this type of cleaning, but don't assume wood-based flooring doesn't have its own maintenance requirements. At least once a year, homeowners should use a wood-cleaning product to deep clean floors and remove any dirt and grime that builds up. Many experts recommend also using area rugs throughout the home to reduce dirt and protect wood from furniture marks. Just like carpet, these area rugs will need to be vacuumed and deep cleaned on a regular basis to remove embedded dirt.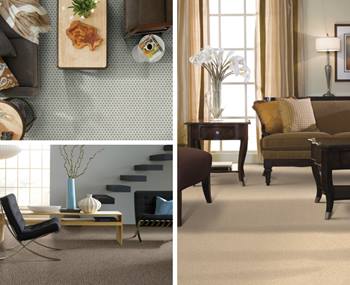 WHAT IS THE BEST TYPE OF FLOORING FOR HIGH TRAFFIC AREAS?
When choosing flooring for your home, one of the first things you should consider is the amount of activity the room sees. Is it the main thoroughfare through your house, connecting the entrance to your living spaces or bedrooms? Is it a space where family and friends like to congregate, like the kitchen or lounge?
These types of spaces that see a lot of foot traffic need the right flooring to be able to handle the additional wear and tear. Here we look at the best flooring for high traffic, as well as pros and cons of various flooring materials.
CARPET
Carpet brings comfort and warmth to your home, and is often a more cost effective option. However, it tends to be more susceptible to wear and tear over the years, with the fibres pilling or bald patches appearing.
FINDING THE BEST CARPET FOR HIGH TRAFFIC AREAS
If your heart is set on using carpet, however, there are some types of carpet that are more suited to high-traffic areas. Nylon carpet for example is incredibly durable, making it a good choice for hallways and stairs.
TIMBER FLOORING
The dense nature of timber flooring means that it can take a lot of wear and tear, while still maintaining its classic, stylish finish. However, timber floors also require care to keep them looking their best. If you notice the flooring losing its glossy shine in high-traffic areas, you may need to buff or recoat the floor to support its durability and moisture-resistance.
Guide to Acoustic Flooring
Sound treatment is a key design consideration for almost every building, regardless of industry, in order to reduce noise disturbance and enhance sound quality. Selecting acoustic flooring materials is crucial to effective sound treatment.
When noise is made within your building, it will either be absorbed, reflected or transmitted by your wall, ceiling and flooring. The goal of sound treatment is twofold: (1) prevent transmission of sound from room to room and floor to floor, and (2) reduce background noise to enhance the quality of speech or music within rooms. Installing acoustic flooring is an effective and efficient way of accomplishing the former goal.
While acoustic ceiling and wall treatments protect against transmission of sound from room to room, acoustic flooring is effective at preventing the transmission of sound from an upper floor to a lower floor. Together with ceiling and wall coverings, your acoustic flooring system will help create the best acoustic environment for your building's application.
Impact Sound
Whether from foot traffic, carts or vibrating machinery, floors bear the brunt of impact within your building. The sound energy generated by this impact can be transmitted through the structure of your building, distorting noise and disturbing workers, guests or residents. Acoustic flooring is designed to insulate impact noise, preventing its transmission from your flooring into the rooms below.
Airborne Sound
Airborne sound typically stems from people, speakers and instruments. Like impact sound, airborne sound can transmit through your flooring into other parts of your building.
Layer on! ways to make rug on carpet look good
This is a question that comes up fairly often. To some, area rugs on top of wall-to-wall carpeting is taboo, to others, it's a way to bring some personality and colour to the space. For us, the answer is YES there are ways to do this! Rugs usually pull a room together, so how can you go without one. Of course, they look fantastic on wood, concrete, and tile floors, but what about rug carpet? It's entirely understandable that replacing a fitted carpet with hardwood flooring doesn't come cheap, in saying that the right rug can actually look picture-perfect on top of carpeted floors.  It can be a good idea in some cases, like if you are stuck with a fitted carpet, or maybe unsightly damage or stains that are beyond a steam clean to cover it up with something much nicer.
Why you should try rug on carpet
Wall-to-wall carpeting shouldn't be a deterrent for buying area rugs. The reason why rugs are so important is that they offer another layer of dimension and texture. The rugs purpose is to achieve a certain style and tone as well as merging the space together, completing the overall aesthetic of a room.
Play with size
If you want to partition your space, use smaller rugs that complement each other. On the other hand, if you really dislike your carpet situation and you're looking to cover as much of your wall-to-wall carpet as possible, there's a solution: Go large and get an area rug that covers the entire floor, making sure the rug isn't too overwhelming in print or colour since it'll be covering a lot of space.
Contrasting colours & textures
Bring life to the floor! While most carpet is plain these days; a neutral colour with no interesting variation, opt for something with a different texture/fiber/definition in order for the rug on carpet to distinguish itself as a new and important element in the room. Whether you want to add traditional aspects to your interior or create a bohemian oasis, a rug will highlight your furniture and draw eyes to where you want them to be looking.
Cosy Layers
The goal here is to create contrast and dimension. If you're looking for extra layers of softness, a plush textile can really cosy things up. The extra soft floor is perfect for a bedroom or children's nursery for playtime. A rug with good weight is key to combat snagging (carpet creep) – which will be more likely to happen with lighter rugs on carpet. Make sure to avoid having the pile too high on the top layer (think Moroccan shag) not a mountain that you can trip on.
Learn About Carpet
Carpet continues to be one of the top choices in flooring for homeowners because of its unmatched style and comfortable qualities. Carpeting not only looks good in your home, but also comes with several different benefits such as being simple to maintain and comes in allergy friendly options.There are several carpet characteristics that play a role like the base material, pile styles, and even the carpet cushion underneath.
Carpet is built to withstand everyday life, and comes in options that are stain, wear and fade proof so you can live your life worry free on your floors. It does not matter if you have pets or toddlers running around your home
Where Can You Install Carpet?
Carpet flooring is well suited for homes with little to no traffic, or homes with children and pets roaming freely.We can help you find a carpet that suits your home and lifestyle. Carpets are more durable than you think and can handle places around your home with heavy traffic like hallways, stairs, and even living rooms. Transform rooms you like to relax in into cozy and inviting spaces as your own personal retreat.Places you should avoid installing carpet in include bathrooms and kitchens.
Types of Carpet
Choosing a carpet color is just part of choosing the typeof carpet you want in your home. Carpet pile plays a role in how a carpet will function in your home, and feature different characteristics. What are these different characteristics? Cut pile has fibers that are cut at the ends making the carpet denser. Loop pile is the opposite, where no fibers are left at the surface and are in a series of loops, giving the carpet an even look. Multi-level loop staggers the height of the loop fibers to create an uneven surface. Cut and loop piles also provide an uneven look but also give texture to the carpet and hide dirt.
The type of fiber the carpet is made out of also impacts how the carpet will look and feel.It also determines the stain and matting resistance as well as long term durability. Nylon fibers are the most durable, but polyester has a more soft and plush feel.Sisal and wool are two natural carpet fiber options.Wool fibers are sought after by homeowners not just because they are natural but because they also feature many different benefits like being hypoallergenic.