Things You Need to Know About Epoxy Floor Coatings
What is Epoxy?
Epoxy is an adhesive, paint, plastic, or other material that is created as a polymer of epoxides. The term "epoxy" is used to describe coatings that are created from two components, meaning, a combination mix of two different chemicals, referred to as "resin." This classifies epoxy as a copolymer. Chemically, resin is composed of short chain polymers, which at their end contain an epoxide group.
There are many benefits that come with using an epoxy floor coating, compared to using other types of resins for flooring. Most importantly, epoxy is known to be the highest strength resin in the industry. They offer the strongest bond between the resin and reinforcement and allow for the construction of the lightest part and most durable modules.
Epoxy is typically chosen for its excellent mechanical properties and its dimensional stability. When properly cured, epoxy flooring offers good chemical and heat resistance, and extremely low shrinkage. Epoxy resins are an excellent option for repairs, since they bond to dissimilar materials and previously cured materials. Most epoxy resins can be post-cured with heat to improve their strength, service temperature and dimensional stability. Parts should be cured at a temperature that matches or exceeds their maximum service temperature; otherwise the epoxy might warp or distort. The bonding of epoxy paint offers a strength that cannot be matched by other common materials, such as vinylester or polyester.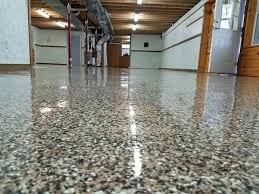 Damage resistant
The epoxy flooring is resistant to wear, cracking, peeling, and corrosion. It can resist damage from chemical like acids and other environmental degradation.
Cured epoxy is able to resist moisture. Epoxy on its own may not be UV resistant. However, adding epoxy coating will help floor last longer and make it even scratch resistant due to composition of the ingredients.
Urethane and a other variety of top coatings can make epoxy flooring more abrasive and scratch resistant. Long term curing, may even make it gasoline . Heated healed or cured floor will also make the epoxy floor more heat resistant.
Epoxy's Strength Comes from Its Chemical Bond
An epoxy coating is made up of two parts—a polyepoxide resin and a curative. They are mixed immediately before they are applied to your floor, and the resulting reaction causes them to chemically bond to one another and to the floor itself.
This makes for a coating that is stronger than the sum of its parts. Epoxy is extremely durable and won't peel or chip away from the flooring surface—that is, as long as it was cleaned and prepared properly beforehand.
Surface Prep Is the Most Important Part
You can read all about the surface prep process on our in-depth page, but suffice it to say that lazy or improper surface preparation means your epoxy floor could fail almost instantly.
One of the worst culprits is moisture. High humidity or vapor permeating the concrete flooring can prevent the adhesive bonds from forming while severely slowing the curing process. This is why it's vital to get a professional moisture test done first, and have any problems dealt with before applying an epoxy.
Epoxy Primer Formulas
Depending on the product being applied, you might need to apply an epoxy primer and finisher coat. The primer is applied just like paint and is allowed to settle for several hours before the epoxy goes on. To apply the primer, cover the floor with a thin layer of water, then spread the primer with a roller pin on a pole, spreading it out in a thin layer over the entire floor. Let the primer dry, then apply a second coat. The finisher is applied in the same manner as the primer but without the water layer.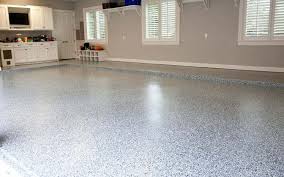 Battle of the Floor Surfaces: Which One is the Strongest?
If you've ever purchased a new floor for your home, you'll always hear the salesperson talk about the strength of the floor surface. That's because some materials are much stronger than others. Take carpet, for example. This surface withstands footfall in a bedroom or lounge, but it won't be suitable for your garage floor. It's just not strong enough.
Then there's hardwood. Again, these floors make brilliant additions to other rooms in your home, but they just don't cut it when it comes to your garage. Hardwood can break down over time and lose its strength. This is a big no-no if you want a garage floor that will last you for years and years to come.
Epoxy floor coating, on the other hand, is strong enough. You can often find this surface in industrial environments — big car plants and retail warehouses where hundreds, perhaps thousands, of people work.
Epoxy flooring may not be something that you've heard of before but in its simplest definition, it is a flooring surface that is made up of multiple layers of epoxy that is applied to the floor to a depth of at least two millimeters