What Should You Look for in a Wedding Videographer?
You may have already decided you'd like to hire a wedding videographer, but there's still a lot to think about. First, do you want to have your entire day captured on video, or just the ceremony? Are you hoping for a chronological look at your nuptials, or do you prefer a more cinematic film with different parts of the day all mixed together? With varying video styles, personality types, and working styles, you'll want to be sure you've found a videographer who checks all of your boxes. But what exactly should you look for in the pro you choose?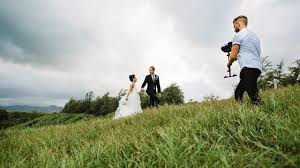 Hire friendly photographers and videographers. 
There is a lot to capture on your wedding day in a short amount of time. Both your photographer and videographer will film the same key scenes: getting ready, first look, ceremony, speeches, reception, etc. Coordination is important, so try to hire a photographer and videographer who have worked together before. This way, they will likely have systems in place to make sure each captures those special moments. Ask your wedding planner for recommendations or have your photographer to suggest a videographer (or the other way around) for a seamless day-of experience.
Find a filmmaker who is comfortable with your venue type.
Found a filmmaker you love but notice that all of their films take place outdoors and you're getting married in a ballroom? Raise the question to the filmmaker before you hire them and make sure they're comfortable shooting in your wedding setting. Request sample films to watch and show them an example of a film you like from your venue (or a similar) and confirm they're comfortable shooting in similar circumstances.
Understand what's included in your package.
As wedding films have increased in popularity, so have the package options and the terminology. Understanding everything that comes in your package will help ensure you aren't disappointed later. When your filmmaker sends you examples of what comes in your package (Instagram teaser, trailer, full edit, etc.) make sure to really watch each example and be sure it's the type and amount of coverage you want!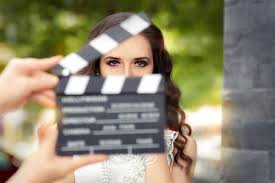 Raw Footage: What is it?
Generally Raw Footage means "unedited footage". This can be quite useless to a couple because it will include all the camera movements and sounds that are native to making a film. When a documentary videographer edits the full ceremony, for example, he takes all these unwanted aspects out and "edits" it in a more appealing way.
For example, the videographer will probably have at least two cameras. One may be "locked off" on a tripod facing the crowd or the altar etc and it will not move for the entire ceremony which could be an hour long. However, this camera may not have any sound because the videographer is using separate sound recorders which have to be synced in editing. The second camera, the one in the videographers hands will have lots of undesirable footage as he moves from one shot to another whether by re-framing (zooming) or by physically moving.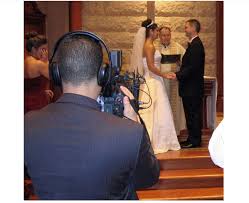 What Is Their Final Product?
And the last but perhaps most important thing to know is what you should expect for a final product. Of course, you should always make sure to read every contract from your vendors extremely carefully, but that is especially true for something as important as wedding documentation. You need to know what type of video your videographer specializes in. Are they creating more of a feature film of your day with full edits, background music, voice overs, etc.? Are they doing a less-edited, more natural view of your event? Are they only providing you with one full-length film or are they also including a highlight reel for social media sharing? Most of these questions will be apparent in a sampling of their work that you should take time to watch before making your decision, but you can also ask them to describe their work themselves during a consultation.
PACKAGES
From Teasers to Full-Length Documentaries
Here are some of the most popular package options you're likely to see when hiring a videographer
Highlight Film (3-10 min) – With many videographers, the highlight film is the final product you will receive. More commonly, this film is non-linear and takes a more modern approach, where the videographer has truly created a piece of cinematic art out of the events and moments throughout your day.
Short Film (10-20 min) – If you decide on a package with a short film, you will receive an edited version of your wedding footage that takes a more linear form, often including a portion of your vows, reception toasts, etc. Depending on how long you book your videographer, the film may also include getting ready footage, first look footage, and grand exit.
Same day edit (4-10 min) – Some videographers offer an option to have footage from your wedding edited on the spot and shown during your reception. This can be a fun surprise for guests on the day-of!
Full-length documentary (30-90 min) – If you are interested in reliving the majority of your day, this option is for you! Your videographer can create a longer film that includes entire sections of your wedding, like your ceremony. Due to the length, this option is the most like a true movie of your wedding.
Most videographers offer additional options to receive additional footage from your day. A few popular add-ons include: dancing, full edit of ceremony/reception, father/daughter dance etc.